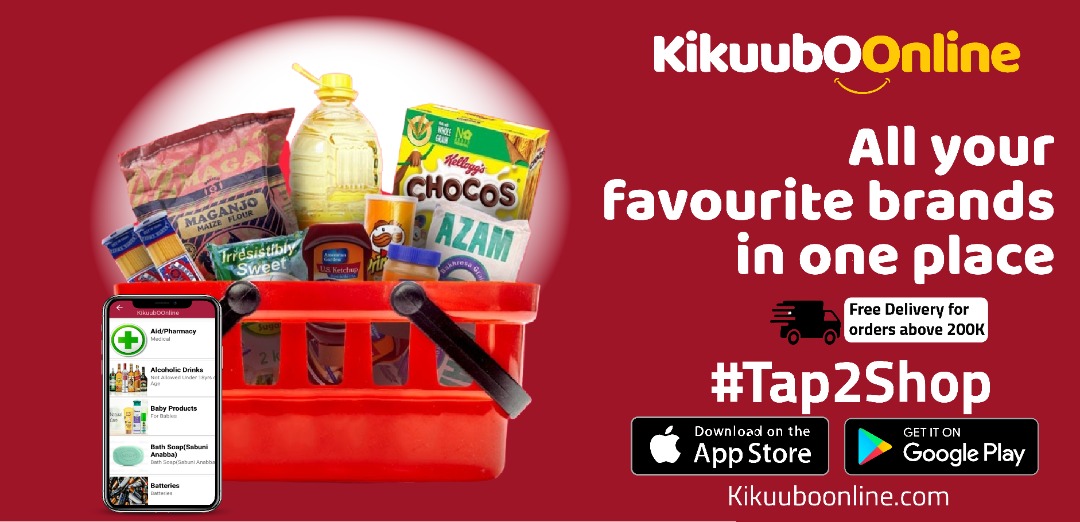 A year down the road, after establishing and proving that they have what it takes to do an Online Business, Kikuubo Online has launched its retail operations.
What this means to a layman is that Kikuubo Online is now a 2 in1 Online platform (Wholesaler and retailer). As a retailer, you can now buy one item of any product and fill up your shopping cart as when you go to any supermarket and pick any item of your choice, add it to your cart and delivery will be done within 24 hours. Orders below 200,000 will have to pay a nominal delivery fee that is calculated based on the distance from their warehouse to your location. Hopefully, Kikuubo has taken this step by first gaining knowledge from a retail insider and understanding their previous e-commerce data. If they haven't, there is a possibility of the firm facing potential pitfalls down the road.
"Our target market is individuals and households who find it difficult to pass by the supermarket every other day. Kikuubo Online is making it convenient for consumers who regularly visit the supermarket to have their daily supermarket shopping cart delivered to them at their doorstep" explains Paul Muyobo, the Marketing Manager for Kikuubo Online. To reach just the right customers that need these services, it seems likely that the firm would incorporate an SEO strategy. In the absence of an in-house team, they may outsource this service from a reputed Online Marketing Venio or a similar firm. This should come as good news for the customers, especially in the current lockdown due to COVID 19 where movement is limited, and social distancing is encouraged.
"While we still serve our existing customers who have supported us since one year of operation as an online wholesaler, Kikuubo Online is now launching the retail platform to be able to reach out to the end customer. Our prices are transparent and affordable coupled with doorstep delivery", Paul further explains.
With a steady increase in Internet connectivity, Internet world stats puts Uganda at 31% penetration rate, more and more Ugandans are embracing e-commerce. Kikuubo Online is redefining the way retail and wholesale business works by bridging the gap between the manufacturer and the last mile customer.
With over 1,200 products in the fast-moving consumer goods category, Kikuubo Online is consistently adding more products to meet the demands for its current and new customer base.
With a fleet size of 30 vehicles and counting, Kikuubo Online has the capacity to deliver to areas of Kampala, Mukono, Wakiso and Entebbe and has plans to later expand its operations country wide in the near future.
Apart from convenience, using an online supermarket is fast and time saving, shopping online alleviates the need to walk up and down supermarket aisles. You can log in any time-even at 2 am-and still have the advantage of a fully stocked Supermarket. Plus, the hassle of physically going to a supermarket is now eliminated saving you time and fuel. In fact, studies show grocery delivery services slash carbon dioxide emissions in half compared to individual household trips. This means by shopping online; you are also now contributing to saving the environment.
Online shopping eliminates overspending your shopping budget which is far too easy to do; you're walking around the supermarket grabbing all the items you need and suddenly a chocolate cake, packet of biscuits, and some sausage rolls have somehow found their way into your trolley. You didn't plan for them before but now you need them! Shopping online can help you tame the impulse buying within you
With Online shopping, search functions make it much easier to find items quickly; typing in the name or brand of a product will show you all relevant products making it much easier to find exactly what you need. You can mark your regular items as favorites so as to make it easy to place an order and save time on browsing through various categories.
Online shopping comes with an invaluable feature that will make the lives of countless housewives and working women simpler – the feature of price comparison. Online shopping does not compel you to remember how much more expensive sugar is in supermarket A versus supermarket B. You can also track the record on your spending to keep you on track with your budget. More features will be added soon, including express delivery, Loyalty points, specific time of delivery during the day among others.
To place an order with Kikuubo Online, simply download the free Kikuubo Online app from either the Google plays store or Apple app store or visit their website at www.kikuuboonline.com
To find out more about the operations of Kikuubo Online, engage them on their social media handles.