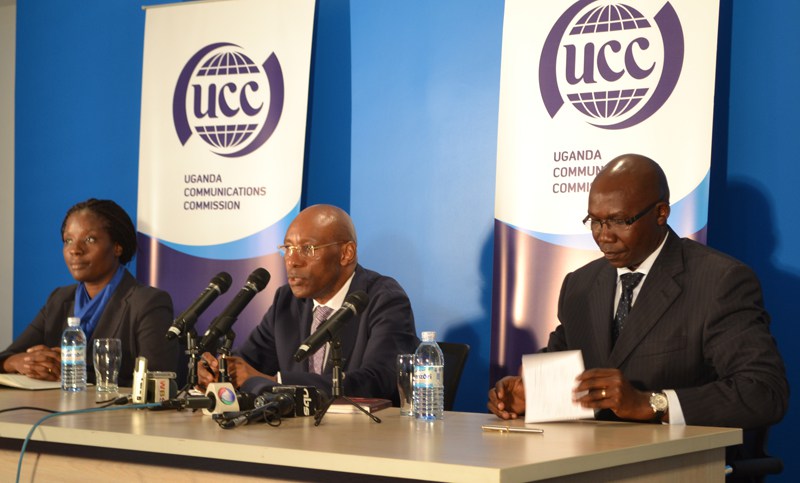 Uganda Communications Commission (UCC) has expressed doubt on whether the statistics of people who watch television and listen to radios issued by the electoral commission commiserate with the distribution of voters across the country.
Speaking to journalists on Saturday, June 20, USC mouthpiece Ibrahim Bossa disclosed that while the country boasts of about 300 Frequency Modulation (FM) stations, they cannot tell where the vast majority of voters are situated.
"We do not have a picture that maybe 30% are in rural areas, 40% are in the peri-urban or A BCD. That picture we do not have," Bossa said.
Bossa also added that UCC is planning to look into issues of poor connections that have sometimes hindered the broadcasting schedules of different television stations.
"Ninety per cent of Uganda's population is reached by radio signals, we have 39 television stations but you will find that their distribution around the country will also be uneven," Bossa said.
"There are areas where signet is still struggling to have a live signal that has to be looked into, that is what is on the ground," he added.
"Our framework was not designed for a scientific kind of election… We are developing guidelines in relation with the relevant stakeholders so that we are able to advise the country and the contestants but that is still work in progress," Bossa said.
Concluding, he vowed to investigate and crack the whip on unbalanced media reporting and coverage of candidates during the course of campaigns.
"The same standards basically say that if the broadcaster is running programmes in respect to a contender of public office, each contender has to be given an equal opportunity on such programming," Bossa emphasized.
According to figures collated by the "Uganda Media Landscape Report and the British Broadcasting Corporation (BBC), 87% of Ugandans owned a working radio while 34% of adult Ugandans owned a Television set.
Only 13% of Ugandans were connected to the internet.
Statistics by the EC indicate that 17.7 million Ugandans are expected to take part in the oncoming polls
Similarly, Secretary Generals of different political parties have invalidated moves by the Uganda Electoral body to hold scientific campaigns saying it is unconstitutional.
Leaders belonging to the Interparty Organization for Dialogue (IPOD) umbrella made these remarks on Friday, June 19, 2020, during a consultative meeting with the Electoral Commission (EC) held in Kampala.
"We believe that these guidelines are firstly in contravention of sections 21 (2) of the Presidential Elections Act and Section 20(7) of the Parliamentary Elections Act," John Kateregga, JEEMA secretary-general said.
As such, he intimated that an innovative approach would only qualify if amendments were made to the above-mentioned laws.
Commenting on the same issue, Kateregga warned that adopting the recently released revised road map nonchalantly could mar the credibility of the 2021 General Elections.
Notably, he mentioned demographic challenges saying a considerable number of Uganda's rural citizenry lacks access to different media platforms as well as gagging tendencies by the regime.
"Many of the private media houses in Uganda are owned by political leaders who will most likely not make them available to politicians of different ideological leanings," he retorted.
He also expressed concern on whether media outlets shall ably handle the campaigns for different candidates across the board.
"We are also concerned about the practicality of apportioning adequate airtime on the various media outlets to cater for the different layers of elective positions whose campaigns are happening concurrently," Kateregga said.
Comments
comments