Media Icon and former Big Brother Africa star Denzel Mwiyeretsi has entered a partnership with local restaurant Shaka Zulu foods to provide services as an influencer for the fast growing local food restaurant.
The partnership was announced by Mwiyeretsi on Monday October 12th via his social media accounts, a move he said was part of his celebrations of Uganda's 58th independence.
"As we celebrate Uganda's Independence month I'm excited to start a new partnership with Shaka Zulu Restaurant, undeniably Uganda's best restaurant for Ugandan food," he posted.
The Tower Post understands that Shaka Zulu owner Hajji Umaru Kikungwe met with Charles Denzel Mwiyeretsi to sign documents for a partnership that will see Denzel use his platforms on radio, Television and social media to endorse and push the Shaka Zulu Foods brand.
Denzel who has been a resident of Mbuya for many years, has been a frequent customer of Shaka Zulu Foods who are located on Camping Road in Kiswa, Bugolobi for both visits to the restaurant and deliveries at his nearby home.
This partnership doesn't come as a shock for Denzel's followers on social media as he has over time shown strong love for good food from the many times he posts food pictures, sometimes cooked by himself.
Shaka Zulu comes as an addition to the many things he will enjoy, especially local foods including Luwombo and pilau which are not easily cooked by everyone.
This website understands that Hajji Umaru and Denzel agreed the need to raise awareness of the Shaka Zulu foods brand and new corporate menu including more flavors of juice and a breakfast menu, which customers have always asked for.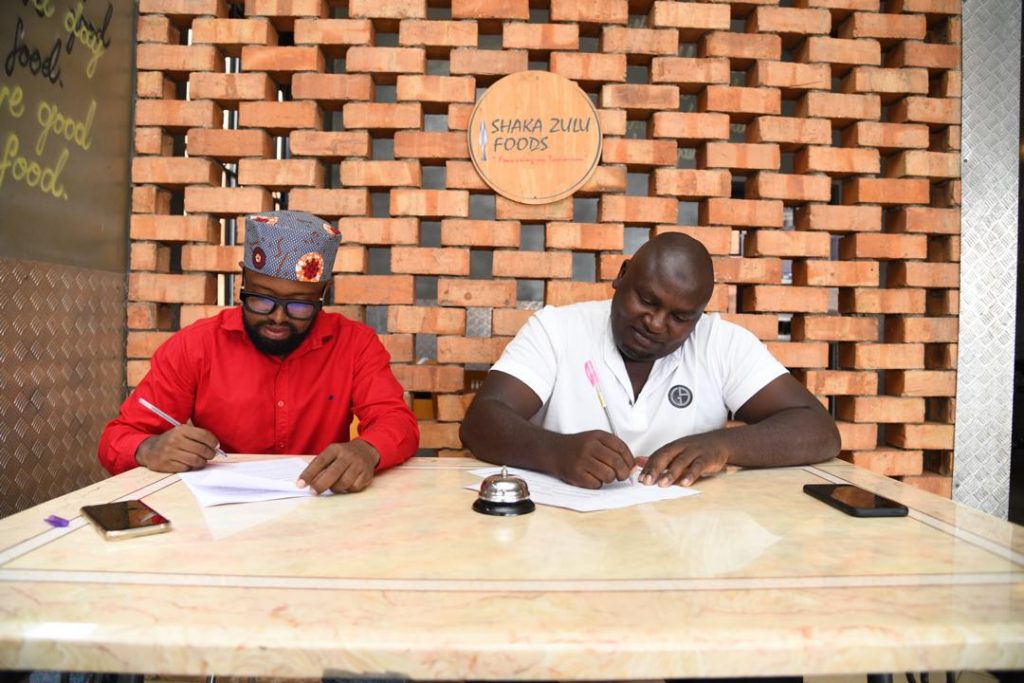 The partnership will see Denzel hosting a lucky follower at Shaka Zulu Foods for and you can eat experience where they will get to interact with Denzel in person and dig into his mind.
Denzel will also use his social media platforms to reach out and send meals to lucky followers on social media and listeners/viewers of his radio show on XFM and TV show on urban TV respectively.
Asked whether this move will mean he abandons his kitchen and stops posting pictures of his home cooked meals, the renown events host said No.
"A restaurant can never replace the home menu but is a great addition either to go out for dates or meetings or to order at home when one is tired to cook or simply yearning some professionally cooked food," he said.
You can follow Denzel on @Denzelug and Shaka Zulu Foods on @shakazuluKla for your chance to win some of the well-known tasty food and a day out with your star.
Comments
comments