President Yoweri Museveni will kick off his campaigns today in the Luweero Triangle, Central Uganda, a very crucial place in the history of the National Resistance Movement – NRM.
Museveni who launched his campaign earlier last week will today meet leaders in the Luweero triangle at Kawumu after which he will address the whole population in area through local Buganda radio stations and television.
The address will start at exactly 7:00PM.
According to the Electoral Commission – EC schedule, all presidential candidates are slated to start their campaigns today and will all end on January 12th 2021.
But due to the Covid19 pandemic, EC boss Simon Mugyenyi Byabakama discouraged the candidates from having large gatherings that pose the risk of spreading a deadly disease.
According to officials within the NRM, Museveni's campaign will be village-based, where he will hold strategic meetings with a selected number of party leaders in a particular area and the leaders will proceed to do door-to-door engagements with their village mates.
"The campaigns are to be carried out on a door to door level by the NRM village chairpersons. We will require them to first talk to their family members and then other people in the villages to help deliver victory for the party at all levels," NRM Secretary General Kasule Lumumba said.
Hon. Lumumba, however, asked the leaders and members of the public to observe Standard Operating Procedures while canvassing votes at the village level to avoid the spread of the deadly Covid19.
"Protect yourselves and the people you talk to. We want you to live longer. Put on masks, ensure social distance and wash hands with water and soap," she advised.
According to the NRM campaign schedule seen by The Tower Post, Museveni will head to Lango region after Buganda and later to West Nile.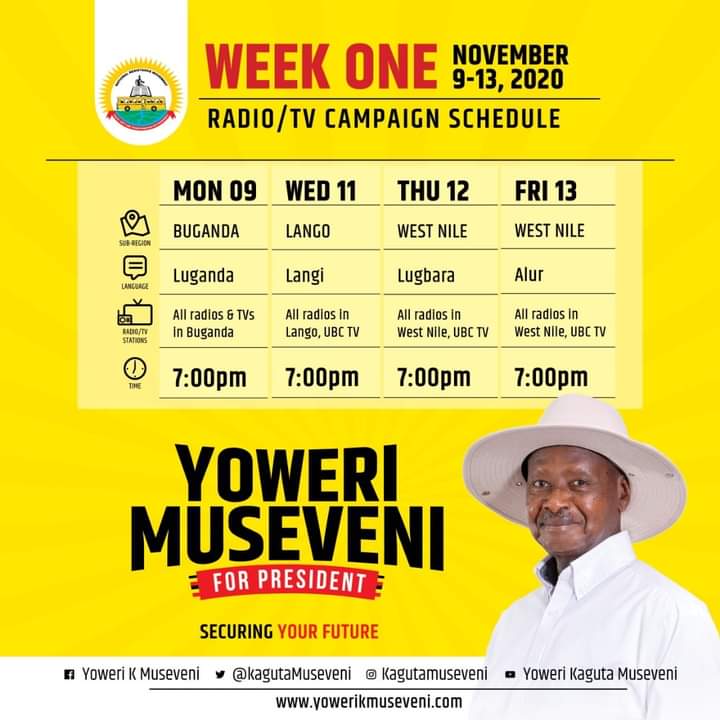 Comments
comments