Telecommunications company MTN Uganda has promised to compensate Ugandans who were affected during the five-day internet shutdown in the country.
This was revealed by the company's social media team while responding to an aggrieved customer who was asking for a reimbursement of their data and OTT.
 "Africell, MTN Uganda, Airtel Uganda, UCC Official and other ISPs we want our data bundles and OTT reimbursed for the five days the internet was cut off," a one Karungi said on Twitter.
In their response, MTN asked the customer to stay calm promising that they would compensate everybody who was affected in the shutdown.
"Y'ello Karungi, we are working to compensate all those who were affected when internet was off. We request for your patience and apologize for the inconvenience caused," one Cathy, a community manager at MTN Uganda said.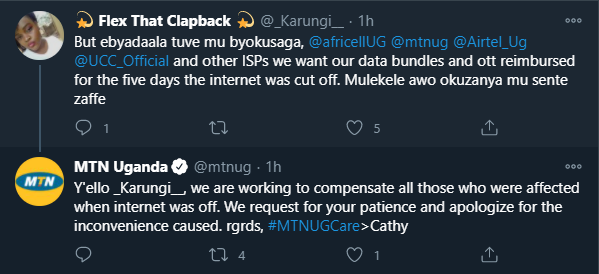 The company however, has not come out to make a public statement confirming the news.
Meanwhile, sister telecom companies Airtel Uganda and Africell Uganda have already started reimbursing customers although not all customers have received data.
The Tower Post understands that at least 400MB of data have been given to some Airtel customers while 750MB have been given to a few Africell customers.
The amount of data that MTN intends to give out as compensation remains unknown.
However, it should be noted that on the day of internet shutdown (Wednesday January 13th, 2021) MTN was running their weekly Gaga Wednesday campaign where data bundles are subsidized.
On the day, the telecom was selling 5GB of data at UGX 6,000 with every subscriber limited to only two bundles (10GB)
Comments
comments