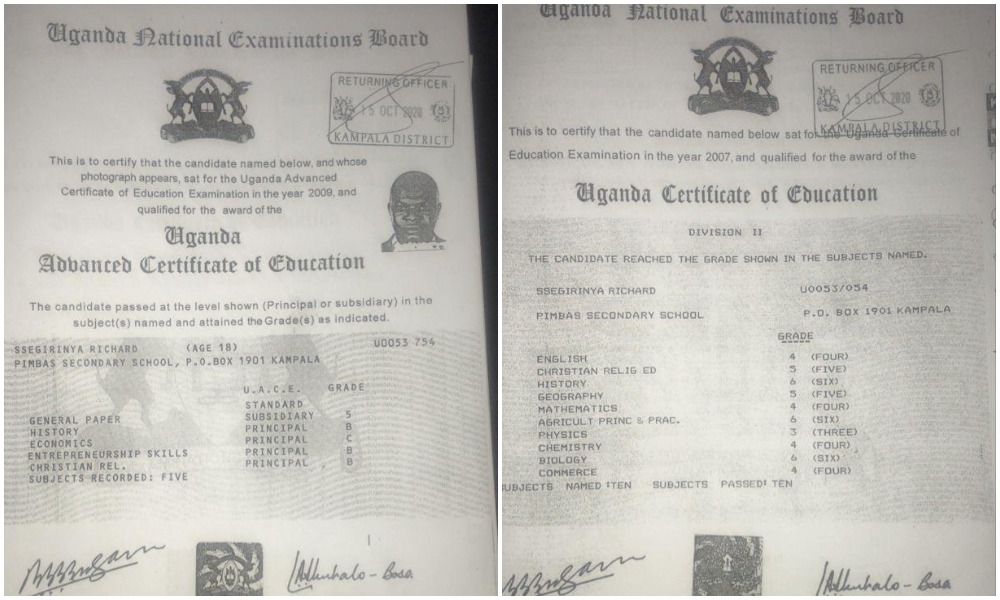 The Uganda National Examinations Board – UNEB has revealed that academic documents submitted by Kawempe North Member of Parliament elect Muhammad Segirinya are not authentic.
This followed a request for verification of the said documents by former Kawempe North MP contestant Sulaiman Kidandala who lost to Segirinya in the recently concluded general elections.
Kidandala is challenging Segirinya's victory on grounds that he was not qualified enough to run for the position which he won by landslide.
"The certificate serial numbers U1884798 and A0964827 whose copies you submitted for verification are NOT authentic documents issued by the board," UNEB wrote in a letter to Alaka & Company advocates, the law firm representing Kidandala.
The two certificates for both Ordinary and Advanced level, according to UNEB were all not for Segirinya as they indicated.
"Candidate U005/054 (2007) is Nampiima Sarah who sat at Mengo Secondary School NOT Segirinya Richard sitting at Pimbas Secondary School."
"Candidate U0053/754 (2009) is Nabadda Maureen who sat at Mengo Secondary School not Segirinya Richard sitting at Pimbas Secondary School."
According to the Ugandan Constitution, for one to be allowed to contest for MP, they must possess a Uganda Advanced Certificate of Education – UACE certificate or its equivalent.
This, if it holds in court would directly annul Segirinya's election as MP.
Comments
comments