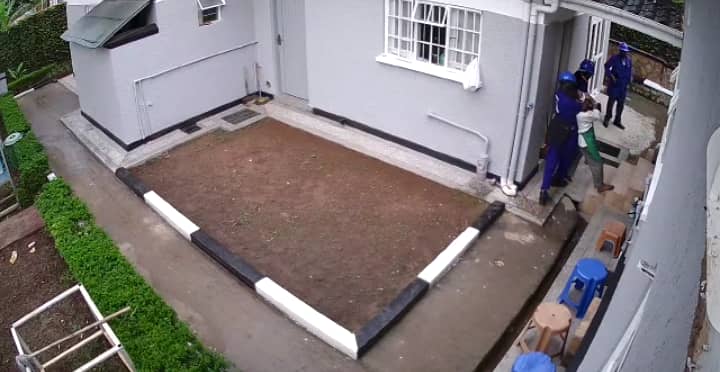 Police's Crime Intelligence have arrested six people suspected to have executed the recent robbery that was captured on CCTV camera in a Chinese national's residence in Kyambogo, a Kampala city suburb.
The suspects posed as National Water Sewerage Corporation -NWSC staff to execute the attack in which $4,500 and other currencies amounting to 85 million Shillings was robbed from a private residence.
A video that was captured by CCTV cameras within the premises shows the thieves who were disguised as employees of NWSC entering the private residence at lower estate in Edinburg Avenue, Kyambogo Kampala and holding the occupants captive before taking off with the cash.
In the video, three men and a woman dressed in uniforms similar to those of National Water and Sewerage corporation-NWSC were seen taking hostage a home cook who is visibly a Chinese national, and a housemaid, whom the thugs tie up and then executed the robbery on 31 March 2021.
After the thugs entered the home in pretense of coming to check the water meter however, the house occupant was grabbed by the neck as he showed them around. The housemaid who came minutes later is also held captive as the muggers' tie them up in the washroom and start to search the house.
Addressing reporters at Naguru police headquarters, Police spokesperson, Fred Enanga said following the incident security followed several tips that led to the arrest of the suspects.
The suspects have been identified as Kiiza Elizabeth, 32, alias Mbabazi Judith, Edison Musinguzi, the gang leader, Wilson Kalyango, 46, Sositin Kamuzu, 40, Joseph Mperese, 46, and Dan Muwoza, 45. Enanga notes that three of them were captured on camera and the other three suspects are part of the gang.
Among them, Kiiza Elizabeth, the only woman in the group, was arrested from Ntungamo where she was constructing a house for her mother. Police's preliminary finding shows that Kiiza changed her name into Judith Mbabazi after her return from China where her passport was confiscated and deported.
"By the time of the arrest, there were three members of the gang who were in Kyambogo plus another three suspects to make it five,' Enanga said. "They were planning another robbery mission in the DRC. They had hired a vehicle and were to use it to cross into Congo, ".
According to the police, on arrest, the vehicle they were going to use to travel to DRC and several house breaking implements were recovered. "We are now working with our asset recovery team from CID headquarters to track down the assets they could have stolen and also recover other exhibits," Enanga added.
He noted that more suspects of the same gang are still on the run including the one who was monitoring the exterior.
NWSC Public Relations Officer Sam Apedel had earlier told Uganda Radio Network-URN that there are thugs out there ever on the lookout for loopholes to use and steal from unsuspecting victims.
"If someone comes to your home as an employee from NWSC to read your water meter or to fix any reported case, ask them for their employment ID's, look at your water bill, there is a name and number of your area relations manager and first call to be sure of such a person," Apedel.
—————–
By: URN