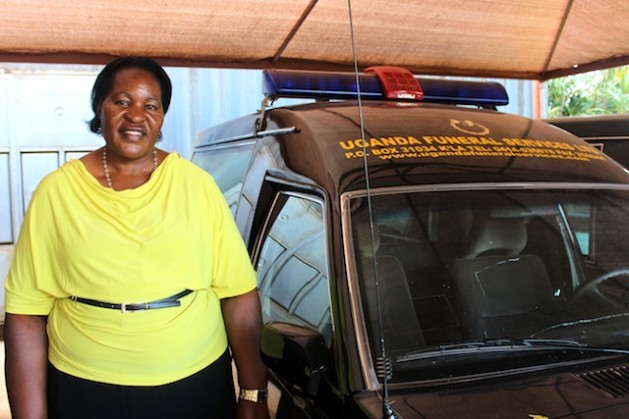 The proprietor of East Africa's first ever funeral home, the Uganda Funeral Services Regina Naluyima Mukiibi Mugongo has died, The Tower Post has learnt.
Mukiibi succumbed to Covid19 according to sources close to her family. She was reportedly attempting to travel to Nairobi for treatment but her health deteriorated and she breathed her last at Entebbe Airport.

She will be remembered for being the country's first ever funeral home director.
As she ventured into the funeral management business, Regina Mukiibi undertook professional training at the Salisbury College of Funeral Sciences and Embalming in London. She seemed to have been involved in the funeral management business in her service area since then. Her expertise is worth mentioning too. For instance, if one were to ask her about things like the average cost of a funeral or something similar, she could have given an immediate response.
Prior to that, she worked an accountant with the now defunct Uganda Commercial Bank, she operated a tour and travel company which she left in order to start the funeral management business.
In 1996, Regina Mukiibi jointly registered Uganda Funeral Services, a funeral service management company with her since deceased brother, Freddie Katamba Mukiibi, a company which has since grown to employ scores of Ugandans.
In her career, Mukiibi received a number of awards for her efforts as an entrepreneur and a person spearheading women empowerment efforts.
She was awarded the Uganda Investment Authority Woman Entrepreneur of Year in 2007, won the Investor of the Year National Award in 2009, Sustained Growth National Award – 2009, Uganda Women Entrepreneurs Associated Limited (UWEAL) Business Achievers Award – 2012 and the Phenomenal Woman of Funeral Services Trailblazer Award in 2013.
Comments
comments