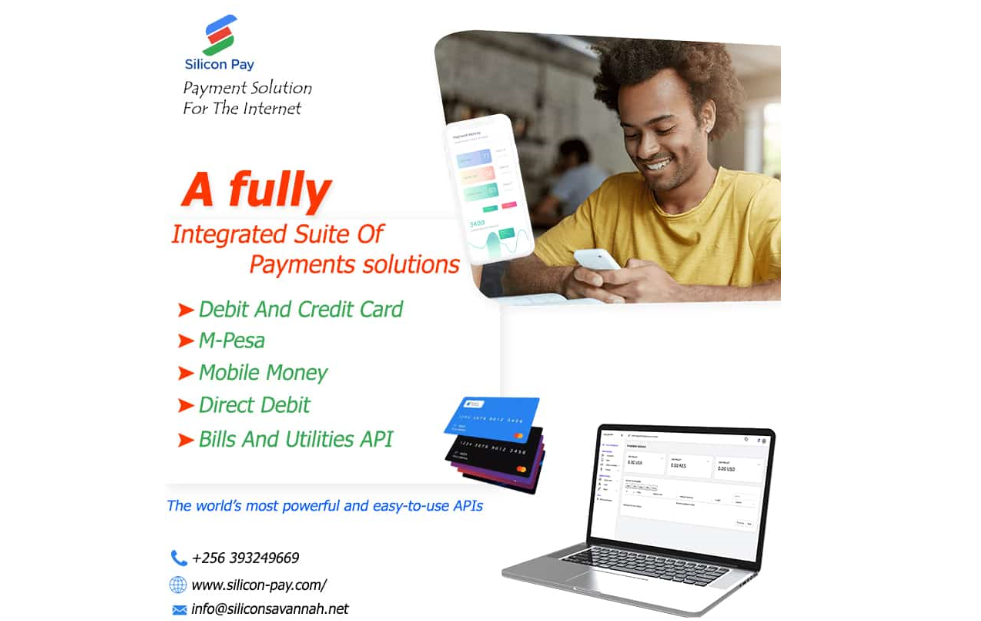 A new payment solution Silicon Pay has been introduced to the Ugandan market to help provide new opportunities for individuals and organisations to grow their businesses as the Covid19 pandemic rages on.
Silicon Pay, a product of Silicon Savannah Limited seeks to ease mobile payments, utility payments, e-commerce, open banking and crowd funding through Application Programming Interface – API.
Since the breakout of the Covid19 in Uganda, interactions between individuals has been limited and so has been the use of cash to transact.
The pandemic has further affected people's businesses which has seen most rely on internet based solutions to ensure continuity of their day to day activities although most solutions currently available have been very expensive while others are hard to use since it's the first time for most Ugandans.
Silicon Pay promises to solve the underlying issues by providing simple and cost efficient solutions to financial services by leveraging the internet, mobile devices and technology to provide more flexible, and faster financial services.
The solution provides an API for its Mobile Money Services and Credit Card Service allowing Merchants, individuals or Companies to incorporate it into their websites and mobile Applications for them to start receiving payments in real time.
Once set up, individuals and business can easily withdraw their money to MTN Mobile Money, Airtel Money, transfer it to their bank accounts or a number of other payment gateways.

The Tower Post understands that the payment solution targets Non-Government Organizations – NGOs receiving donations from all corners of the world, individuals with websites where they would like to integrate online payment options, merchants who receive large sums from sales or donations among others.
Silicon Pay can collect up to UGX 5Million in a single transaction on mobile money and over $20,000 on Credit Cards and the user's money is available for withdraw as soon as it is collected.
The platform is not only limited to making payments but allows users to do shopping online from millions of locations around the world and make payments by at just a tap of a button from the convenience of their homes, office or even while on the move.
For one to get started, they need to visit the solution's website https://silicon-pay.com/ where they can create an account and get started.
Comments
comments