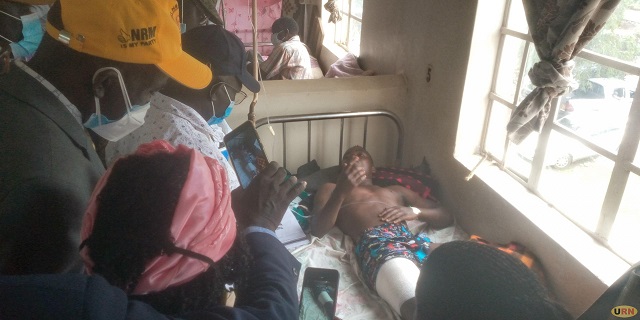 A young man is receiving treatment at Arua Regional Referral hospital after being shot by an enforcement officer from Uganda Revenue Authority-URA.
The gunshot victim is Philliam Angoni from Nyio village in Arua district. He was shot on Sunday evening near Opia health center 3.
The bullet caught him on the right thigh, went through and entered the motorcycle tank before Angoni fell off the bike. According to reports, the URA enforcement team from Padeya in Zombo was from Arua where they had gone to fuel.
However, when they arrived at Opia, they saw Angoni riding a numberless Haogin motorcycle. One of the officers jumped off the vehicle and started chasing Angoni before he opened fire. The officer later returned and jumped on the vehicle before they sped off.
Speaking to URN on his hospital bed, Angoni told the URA team in Arua and district officials that he was riding slowly due to the too much mud and the heavy downpour, but saw a UPDF soldier running towards him which forced him to branch off.
He says that he immediately heard gunshots and fell down only to find himself bleeding. "I was left bleeding as the officer ran back and boarded their vehicle and sped off. I cried for help and neighbours came to my aid and rushed me to Arua hospital," said Angoni.
Angoni had secured a number plate for his motorcycle registration number UFH 107Z, which he was yet to fix. Cosmas Ayikobua, the Arua district vice LC 5 chairperson also accuses the same URA enforcement of splashing on him mud and brushing him off the road. He told URN that he would raise his complaint with the URA regional team on Tuesday.
Alfred Okuonzi, the Arua district LC 5 chairperson who led the team to the hospital condemned the incident, adding that URA has accepted responsibility and will treat the victim as well as compensate him.
Major Gerald Ledra who led the URA team to see and assess Angoni's state at the hospital declined to comment on the incident and referred the media to their general meeting on Tuesday.
Angoni has since undergone surgery to neutralize the burning effect from the bullet. The URA team from Padeya in Zombo is expected to attend the meeting on Tuesday.
Comments
comments