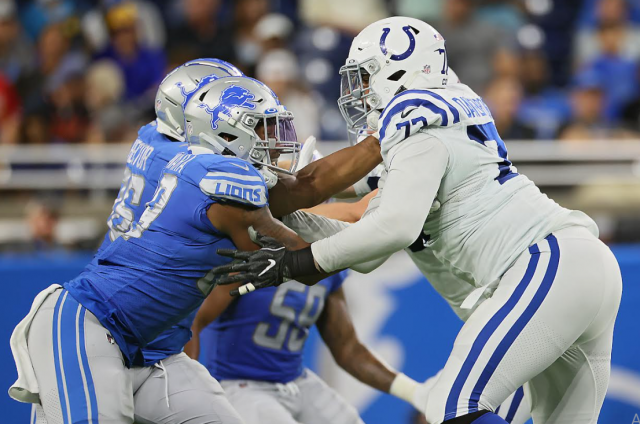 Viewers on DStv can look forward to seeing Nigerian outside linebacker Julian Okwana in National Football League (NFL) action as ESPN 2 features live action from the Regular Season early next week.
DStv is your home of the Entertainment and Sports Programming Network.
Born in London, but raised in Lagos, Okwara and his family moved to the United States when he was just a boy. He went on to attend Ardrey Kell High School in Charlotte, North Carolina and then the renowned University of Notre Dame to play college football from 2016 to 2019.
In 2020, he was selected in the third round (67th overall) of the NFL Draft by the Detroit Lions, ultimately signing a four-year contract in June of that year. Okwara did not make much of an impact in his rookie season, as he recovered from a broken leg suffered in his final year of college, but he is set to be a breakout star on the gridiron in 2021-22.
The 23-year-old has made a switch to outside linebacker in Detroit's new base 3-4 defense, with the likes of Trey Flowers and his older brother Romeo Okwara, among others. The change in position should allow the younger Okwara's agility and athleticism to come to the fore.
"Oh, great. I mean, I feel pretty good," said Okwara. "Moving around pretty fast. It feels great for sure. I mean, I broke my leg in college and I felt pretty good after that. I don't really let injuries affect me. Part of the game, it all happens, so just excited to play this year and move around."
He added, "I like it a lot [the new defence]. I mean, get to the football, pass rush, do whatever I need to do. So to be on the field making plays, I think that's the most exciting thing about this defence.
"Any time you get to rush on a guard, rush on a tackle, I think just rushing in general, so I love it. Whenever I'm moving around, whether it's dropping back doing coverage, whatever, getting to the quarterback, so I'm excited for it."
The Okwara brothers never played together in high school or college, but look set to be a fearsome pair for the Lions. Romeo Okwara made the decision not to leave Detroit in the offseason after enjoying an impressive campaign in 2020.
"I mean, I wasn't really, I think he (was) gonna miss me," Julian Okwara said of his brother's decision to return. "I think he was gonna miss me a little bit, so I don't think he wanted to say that, sound a little soft.
"But, nah, I'm excited to play with him for another couple years. I think him coming back is a great thing for the team. Great for the organisation, knowing guys want to come be here and be around the team and change the organisation and the things we've done the past year we want to improve and just get better every year."
Both Okwara brothers will hope to feature strongly for the Detroit Lions when they face the Green Bay Packers in an NFL Regular Season clash at the Lambeau Field in Wisconsin on the morning of Tuesday 21 September – a game you can catch LIVE on ESPN 2.
Visit www.dstv.com and www.gotvafrica.com to subscribe or upgrade, and join in on the excitement. And while you're on the move, you can stream the action on the DStv App.
See Julian Okwara in the following NFL game live on ESPN:
All times CAT
Tuesday 21 September
02:15: Green Bay Packers v Detroit Lions – LIVE on ESPN 2
Comments
comments