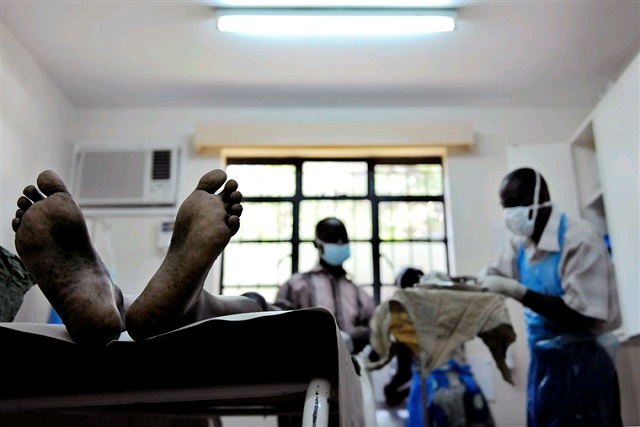 Napak police are investigating circumstances surrounding the death of a suspected child trafficker in their custody. John William Lomilo Apaalomer, 59, a resident of Alekilek village, Iriiri Parish, Iriiri sub county in Napak district died on Sunday while in transit to Matany hospital.
Michael Longole, the Karamoja regional police spokesperson explains that police arrested Lomilo on September 17 at around 5am from Alekilek trading centre while waiting for the morning bus together with eight children aged between 6-15years. He says that police acted on a tip-off from community members that the deceased would keep the children in his house and later transport them as a casual labourers to Busia and Nairobi.
"When we got a tip from community members that the deceased had planned to traffic six children, we dispatched a group of police officers from Iriiri police station led by Sergeant Joyce Alioru, the in-charge child and family protection unit and members of the children protection committee of Iriiri sub-county, and GISO Iriiri sub-county," he said.
According to Longole, following the arrest, the officer in charge of Iriiri police station ASP Martine Tatumwa noticed the health condition of Lomilo deteriorating while in police cells.
"When our officer saw the health situation of the deceased was changing, he rushed him in his private vehicle to Iriiri health centre IV. However, the health workers at Iriiri health centre advised the police officer to take the deceased to Matany hospital but he died at Matany trading centre 1km to Matany hospital, "he said.
He said the deceased was still lying in Matany hospital mortuary pending a postmortem. Jessica Nangiro, one of the residents of Iriiri trading centre said that the deceased had been the main contact from child traffickers in their area.
"It's unfortunate that he died, but we wanted him to face the law because the majority of children suffering from various streets across the country go through him, "she said.
Samuel Aparengan, the Alekilek village defence secretary asked the police to avail the postmortem of the deceased to the community to ascertain what could have killed the suspect.
Comments
comments