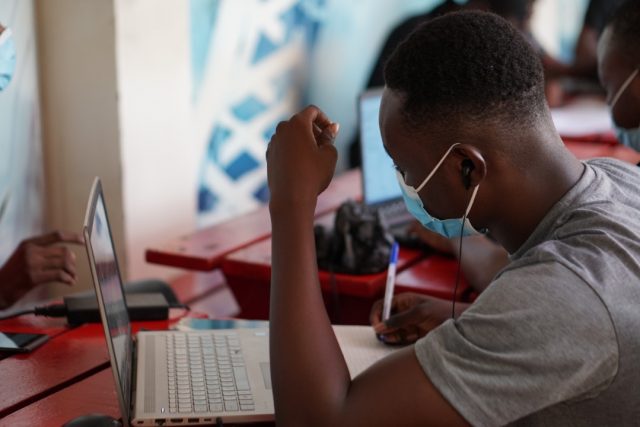 Approximately 15 million Ugandan children have stayed home for 20 months, according to a UNICEF report on global school closures. While these stay-at-home measures are intended to safeguard students' health from the COVID-19 virus, the situation has placed Ugandan school closures among the longest in the world. Furthermore, in-person teaching still has yet to resume due to low vaccination rates.
The good news, however, is that advancements in digital tools and web-based resources have at least enabled schools to adapt. And increasingly, many believe that the shift to technology-based education means the fully traditional model will ultimately be left in the past. The future likely lies in blended learning.
What Is Blended Learning?
Blended learning is a delivery and design method for teaching that mixes online and offline experiences. It takes different student activities — attending seminars, taking exams, or listening to lectures — and restructures them with educational technology in mind. Among other benefits, this strategy allows students to access learning materials ahead of lessons, engage with tools relevant to tech-related career paths, and improve creative and collaborative skills.
The pandemic did not create this style of learning, but it has nudged more schools toward it. In Uganda, however, there are a few roadblocks standing in the way of blended learning. One is that acquiring the tools necessary to implement blended learning is a problem in and of itself. Earlier this year, the Uganda Communications Commission Q2 report revealed that mobile phone subscriptions had actually dropped by 11%, from 28.4 million in Q1 down to 25.5 million. This is largely viewed as a consequence of a global reduction in smartphone shipments, but it speaks to just one of a handful of difficulties facing area school systems transitioning to tech-driven education.
At the same time however, the blended learning approach also helps to resolve some existing challenges in education. Here are three particularly interesting benefits:
Allows flexibility for students and parents:
A write-up from the International Bureau of Education noted last year that Uganda had learned a great deal from the Ebola crisis, and was putting that experience to see supporting alternative, informal learning through mass media — particularly radio and television. Blended learning offers a similar but more streamlined approach. Students can still enjoy the benefits of face-to-face support and instruction, but educational technologies can help them catch up anywhere at any time. Having access to interactive mobile quizzes, audio lessons, and virtual classrooms that use minimum amounts of data allow families to continue with their education, even in circumstances when they can't always leave home.
Increases access to educational resources:
In some cases, there are already examples of educational providers helping to give children in various parts of Africa greater access to educational resources. In particular, Bridge International Academies makes a point of investing in alternative ways to reach underserved populations –– which even before the pandemic often lacked access to affordable study materials. To quote parent S. Jyothi from the Bridge International Schools' Facebook page: "My child doesn't own class 4 books but he learns new topics from the virtual classes… It has improved my child's knowledge on these topics." This encapsulates one of the chief benefits a blended learning approach can offer. And in light of the pandemic, with more teachers making things like WhatsApp quizzes available via SMS and leaving printable materials with cyber café partners, the idea of expanding new resources for students is taking hold.
Mitigates the gap in teacher availability:
Quality education remains out of reach for far too many children, with brick-and-mortar schools offering the best education often accessible only to a few learners. In part, this is due to a shortage of teachers — especially those qualified to teach in an online setting. This is one of the problems that the educators at UCT Online High School aim to address.
As a purpose-built online school, this institution's trained teachers and lecturers are able to reach more students through blended learning, such that education can be delivered at scale. The idea is basically built on the premise that an online educator can reach more students at a given time –– though when and where it's safe to do so, UCT Online will also allow students to join small, physical learning environments where they can interact with peers and mentors in person.
While there is no perfect way to address all of the educational issues that have come to light during the pandemic, these benefits convey why there is some enthusiasm for the blended learning approach. Done correctly, it's an approach that can improve access, equity, and potentially even quality of education.
Comments
comments