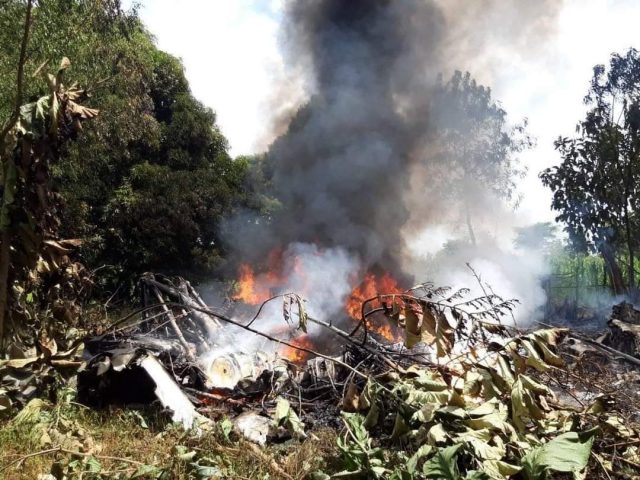 The South Sudan government has formed a committee to investigate the latest fatal plane crash in the country which involved an aircraft operated by Optimum Aviation on 2 November, an official revealed.
The ill-fated Antonov An-26 aircraft crashed Tuesday in Gondokoro adjacent to the Juba International Airport shortly after takeoff killing five crew members.
The director-general of Juba International Airport, Kur Kuol, told Radio Tamazuj Friday that an investigation committee has been formed to establish the cause of the plane crash.
"The minister of transport is preparing a committee of investigation. The day before yesterday (Wednesday), we were in a meeting with the directors of accident and investigation," Kuol said. "The minister asked them to produce a list of investigators from their department to begin the investigation."
Among those who died in the crash were a South Sudanese, two Russians, and two Sudanese nationals.
The plane was carrying 25 drums of fuel from Juba to Maban County in Upper Nile State.
South Sudan has in the recent past witnessed several fatal plane crashes with the most recent being on 2 March 2021 when a Let L-410 Turbolet operated by South Sudan Supreme Airlines crashed in Pieri, Uror County on a domestic flight to Yuai Airstrip, Jonglei State. South Sudan.
In 2017 a South Sudan Supreme Airlines plane caught fire and crash-landed but there were no fatalities.
In August 2020, a cargo plane belonging to South West Aviation crashed outside Juba killing four passengers and three crew members.
In 2015, 36 people were killed when a Soviet-era Antonov plane crashed just after takeoff from Juba.
At least 19 people were killed in 2018 when a small aircraft carrying passengers from Juba to the city of Yirol crashed.