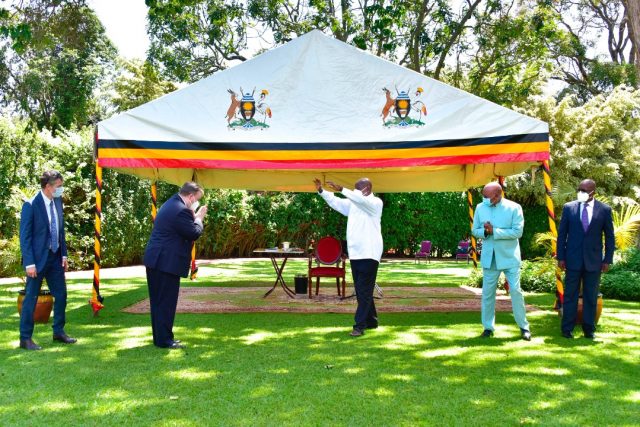 President Yoweri Museveni has Thursday held a meeting with Vladlen Semivolos, the ambassador of the Russian Federation to Uganda to discuss issues of mutual interest between the two countries.
This was announced by President Museveni in a post via his Twitter account on Thursday evening.
"This afternoon, I met H.E Vladlen Semivolos, the Ambassador of the Russian Federation to Uganda. We discussed issues of mutual interest," Museveni tweeted.
The meeting comes a day after Uganda abstained from voting as the UN General Assembly overwhelmingly voted to condemn Russia's invasion of Ukraine.
"Uganda Abstained on the UN General Assembly vote on the Ukraine Crisis. As incoming Chair of the Non- aligned Movement (NAM), neutrality is key. Uganda will continue to play a constructive role in the maintenance of peace and security both regionally and globally," Adonia Ayebare, Uganda's Ambassador and Permanent Representative of Uganda to the United Nations explained.
The meeting also comes days after first son and commander of Uganda's Land Forces Gen Muhoozi Kainerugaba declared his support for Russia's invasion of Ukraine, a comment that was blasted by Uganda's Political opposition.
"The majority of mankind (that are non-white) support Russia's stand in Ukraine. Putin is absolutely right!" Muhoozi said.
"When the USSR parked nuclear armed missiles in Cuba in 1962 the West was ready to blow up the world over it. Now when NATO does the same they expect Russia to do differently?" he further wondered.
Details to today's meeting between Museveni and the Russian ambassador remain scanty .
Comments
comments