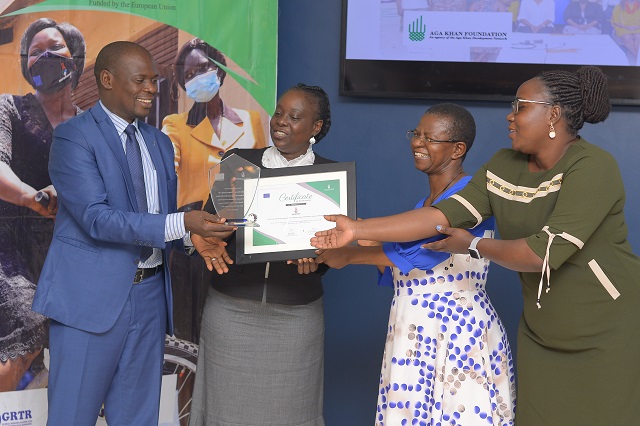 Held at The Golden Tulip Hotel in the heart of Kampala, Uganda, The Aga Khan has today to take into account and share the latest developments from their partners and also rewarded each for their efforts in implementing the COVID-19 Response in their various programs.
The awarding ceremony was moderated by Manuela Mulondo Pacutho who also doubles as the Team Lead at Early Years Foundation Uganda.
This micro engagement is in line with The Aga Khan Foundation's Pillar 1 and 3 which have been currently implemented in Kampala.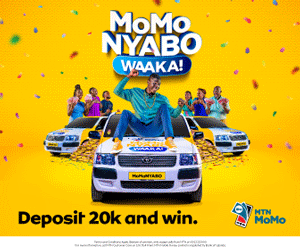 Meralyn Mungereza, the Country Director of The Aga Khan Foundation in her opening remarks re-echoed the excitement they have as an organization towards this COVID19 recovery project.
"We believe in working with partners for we on our own could not reach the people and the communities", she said.
She further highlighted how the pandemic affected all parties; and their guiding question was how they were going to be able to reach the marginalized adolescents, teenage mothers, and the autistic, among other vulnerable groups.
In her concluding statement, Meralyn appreciated their partners, for she believes they can do even more so as to hit their target of 7,000 individuals who are to benefit from it.
"We all are gathered here to take a glimpse at what each and every one of our implementation partners have been working on in terms of practices, and implementing this particular program that was started not so long ago and aimed at enabling the various groups recover from the adverse effects of COVID19. ", stated the Agah Khan Foundation's Programs Manager Olgah Daphine Namukuza.
Offering a key note address on the adverse effects of the pandemic on the marginalized groups, Justice Eva Kawuma of FIDA Uganda lauded this recovery intervention by the foundation as it came through with an all-round inclusive plan for the minorities and marginalized communities whose rights were suppressed more so during the times of COVID19 and the lockdown.
As a women's rights activists, she further highlighted the challenges they face in attempt to gain justice for the women and promoting gender equality, since it was more difficult to access them during the lockdown and advance empowerment among them.
There then was a session where the various partners presented updates regarding their activities to enrich lives that they carried out in the past two years.
Speaking on behalf of Reach a Hand Uganda, Victoria Chemtai said that as an NGO, when COVID19 hit Uganda, they embarked on a journey of making sure they continue to serve the young people, and in that were able to launch the Sauti Plus mobile application, train more peer educators, empower the young adolescents and most recently distribute relief kits, items and food to the young mothers; an exercise that was carried out in Kampala and Arua.
Representing National Forum of People Living with HIV/AIDs (NAFOPHANU), Bridget Nabirye re-echoed that having/living with HIV should not define a person.
She went ahead to say that since most people do not understand the magnitude of the disease, many positives regularly skip their medication. In addition to that, she also emphasized the importance of capacity building so as to empower this group of people to be able to sustain themselves.
Another sector which was affected adversely by the pandemic was the business sector and entrepreneurs.
Prudence Atukwase the Executive Director of Action for Fundamental Change and Development (AFFCAD) in a few works had this to say:
"Our mission is to provide sustainability to slum dwellers. We do this by offering business mentorship, and institutional strengthening.
"We are looking at equipping at least 500 young people in 3 parishes (Bwaise 1, Bwaise 2 & Bwaise 3). At an event we held last week, we were able to reward the outstanding businesses with tool kits and startup capital. A task we've been able to execute by leveraging our partnerships so as to have an exciting ceremony.", she added.
Representing the Kyambogo University Faculty of Special Needs; Hakim Kinume on how they as an institution are working to promote entrepreneurship said that in Kyambogo, they have the "The Disability Entrepreneur's Project" which addresses over 700 students, and these work with their peers and interpreters, and these are trained in activities like liquid soap and paper bag making, which are then sold to Banda and Ntinda markets.
The Early Years Foundation Uganda Programs Manager Nakanjako Immaculate talked on the importance of proper early childhood development if we are to build great citizens.
'The Europeans that we greatly admire are the way they are because they have great early childhoods. With support from the Agah Khan Foundation, we are organizing a challenge where we shall reward outstanding innovations who are aimed at improving early childhood development." Added immaculate.
Tourism was also greatly affected by the pandemic, and speaking on behalf of the Uganda Tour Operators, Elliot Mugisha encouraged the young people to keep innovating.
"These challenges we have are looking for innovators like you, and technology gives you that opportunity. So innovate, and never stop creating".
The European Union (EU) representative in his remarks re-emphasized the purpose of the event which was to recognize the outstanding partners with whom they have worked closely in impacting lives.
He further went ahead to recount that COVID19 ha and will continue to have long-term effects and these are not limited to healthcare, security and basic needs.
He also applauded the Aga Khan foundation for the message of hope they disseminate to the communities and funding to the various Civil Society Organizations (CSOs), which he said is indeed in line with the theme of the day which was "Communities at the forefront of Fighting COVID19".
The event was then concluded with a prize and certificate awarding ceremony of all the implementing partners who included: Dorna Centre and Home for Autism, the Anthill Foundation Uganda, FIDA Uganda, Reach A Hand Uganda (RAHU), Action for Fundamental Change and Development (AFFCAD), National Forum of People Living with HIV/AIDs (NAFOPHANU), Early Years Foundation Uganda, Kyambogo University Faculty of Special Needs, Uganda Tour Operators, and Tour Guides Forum and this was done by the Guest of Honor.
Comments
comments