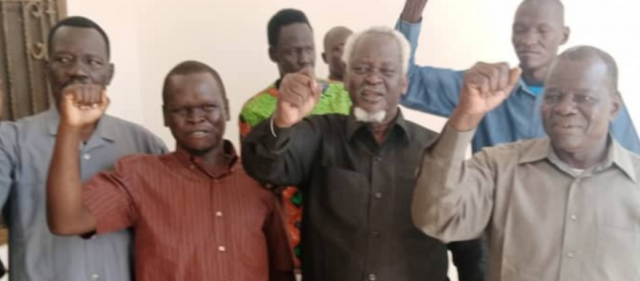 General Simon Gawech Dual, leader of the SPLM/A-IO Kit-Gwang faction, has received a group of people who defected from Machar's SPLM/A-IO faction.
 "I just want to announce that this morning, a group of people from Mundri East who defected and joined us in SPLM/A-IO Kit-Gwang. The group is led by Brigadier General Francis Jackson Rock," Alfred Gai Thoat, a spokesperson for the SPLM/A-IO Kit-Gwang faction said on Monday morning
For his part, Brigadier General Francis Jackson confirmed that he joined the SPLM/A-IO faction led by Gen. Simon Gatwech.
"We have defected from First Vice President and SPLM/A-IO leader Riek Machar and joined General Simon Gatwech because there is no peace being implemented. We have a force, and as you know, the force that has not been unified is with us," Francis said.
"We need a genuine peace in South Sudan, we want unity among the people of South Sudan, we want to see a country where all tribes are equal," he added.
Machar's military spokesperson, Col. Lam Paul Gabriel, could not immediately be reached for comment.
Earlier this year, President Salva Kiir's group and the SPLM/A-IO Kit-Gwang faction led by General Simon Gatwech signed a peace agreement.
However, the peace deal, which provides for the integration of Kit-Gwang forces into the military, remained unimplemented.
General Simon Gatwech, head of the group, and General Johnson Olony, commander of the Agwelek forces and deputy commander of the SPLM/A-IO Kit-Gwang faction, signed two separate agreements with Kiir's faction.
Comments
comments