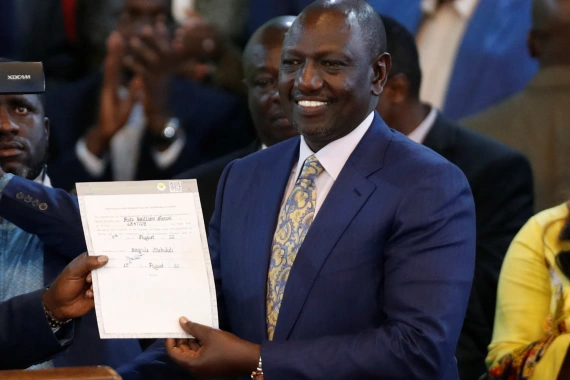 Kenyan President elect William Samoei Arap Ruto has promised that his government will work together with the opposition to serve the people of Kenya.
Ruto said this on Monday evening after he was declared the winner of the Kenyan presidential elections that were cast on Tuesday August 9th. Ruto beat competition from former Prime Minister Raila Odinga after polling 7,176,141 votes which accounted for 50.49% of the total votes.
Odinga polled 6,942,930 votes which accounted for 48.85% of the total votes cast.
"I thank Raila Odinga for a campaign where we all dwelled on issues and we tried to sell an agenda to Kenyans. I want to promise that I'll work with all elected leaders so that we can fashion a country that leaves no body behind," Ruto said on Monday evening.
"I'll work with the opposition so that they provide oversight to my administration," he added.
The United Democratic Alliance candidate lauded the Independent Electoral and Boundaries Commission – IEBC for what he referred to as a one of a kind election.
"In this election, there are no losers. The people of Kenya have won but the hero of this election is the IEBC," Ruto said.
'Without informing anyone of us, you [IEBC] put all results on a public portal where every Kenyan could access. That became the game changer in this election," he added.
Despite the many political differences amongst the many political parties, Ruto called upon all of them to forget the past and focus on building Kenya.
"I am aware that our country is at the stage where we need all hands on deck. We don't have the luxury to look back, point fingers or apportion blame. We must work together for a functioning democratic prosperous Kenya," he said.
"I know many are wondering especially those who have done many things against us. I want to tell them that there's nothing to fear. There's no room for vengeance or looking back."
He thanked his former boss and predecessor Uhuru Kenyatta with whom he worked for the past 10 years promising to build on the foundation that they already laid.
After being sworn in, Ruto will become Kenya's fifth President after after Jomo Kenyatta (1964 to 1978), Daniel Arap Moi (1978 to 2002), Mwai KIbaki (2002 to 2013) and Uhuru Kenyatta with whom Ruto has been serving as Deputy President since 2013.
Comments
comments