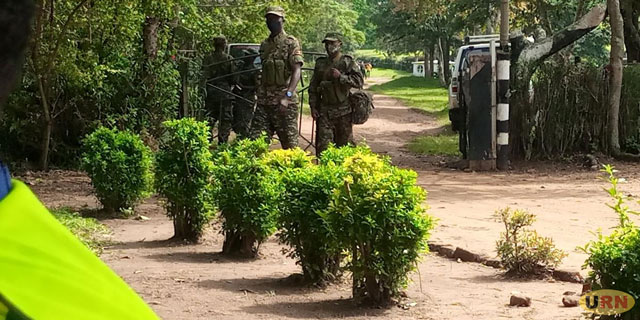 There is heightened security at the country home of the late former Security Minister, Gen. Elly Tumwine in Mukuru Village in Kazo district ahead of his burial on Tuesday. A top security officer told our reporter on condition of anonymity that they have set up four security checkpoints from the main road to the deceased's home.
At least 2 police officers backed by between 3 and five soldiers are meaning each checkpoint. The officers are searching vehicles and people accessing the deceased's farm. Denis Nahurira Rwamunyoga, the Funeral Organizing Committee Chairperson, says that they resolved in the last burial preparatory meeting to increase security around the deceased's home because they expect high-profile mourners.
Tumwine's body is expected to arrive in Kazo district at around 3:00 PM today via helicopter. According to Rwamunyoga, the chopper will land Rwemikoma Primary School playground.
Ham Tusiime, the LC 1 chairperson of Mukuru village, says that the heavy deployment around the Mukuru Village might scare away some mourners. He says that during their preparatory meeting they had planned for about 6000 people but the number might reduce due to the deployment.
Emmanuel Kaimustya, a resident says the heavy deployment is scaring away the local people who are not used to soldiers who are using Kiswahili and English, which many local people don't speak.
Comments
comments