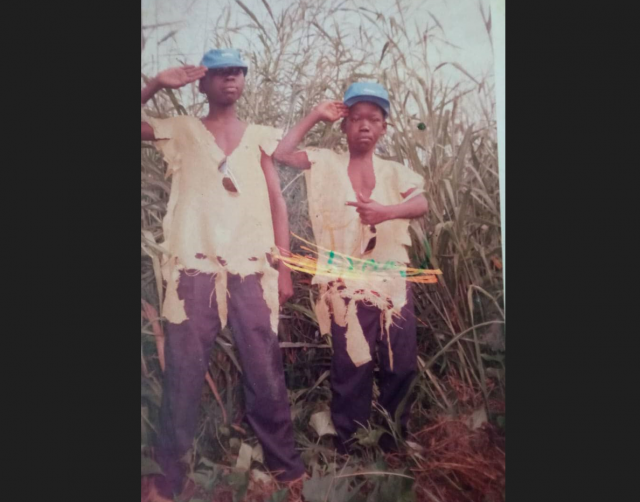 A rare childhood photo of South Sudanese singer and songwriter Barnabas Samuel has evoked emotions and sparked conversations amongst his fans with many congratulating him on the journey he has made so far.
The photo which appeared on Facebook on Friday September 23rd had Barnabas Samuel together with his younger brother Jaiksana (both singers) with a daring caption; ""they don't know us. We are we."
The picture which shows Samuel and his brother wearing torn shirts goes to show the struggle that the Ganya Records proprietor has gone through to be the musical sensation and inspiration that he has become.
"You guys were not ugly but you lacked money," reads one of the comments on the photo.
""You have come from far my lovely brothers. That life. … haaa," another Social Media user commented.
Barnabas Samuel was born on the 25th, May 1993 in Kaya – Central Equatoria State, South Sudan. At the time of his birth, his parents were on the run, moving to refugee camps in Uganda due to the Sudanese Civil War.
When the first protocol of the Comprehensive Peace Agreement (CPA) was signed, his parents took him back to Yei in South Sudan where he was later joined by his other siblings, Selua Lula, Jaiksana (in the picture), Ronald and Mathew Gita after they were repatriated.
In his childhood life, Barnabas grew up in Yei, A small town in the central Equatoria state.
In 2016, when another civil conflict erupted in South Sudan, Barnabas Samuel had to flee to Uganda and was later joined by his family in Rhino Camp Refugee Settlement, where he is currently settled and lives till date.
Recently, he released a hit song titled "Kulu Ena Le Ana" in Arabic in which he tells his personal story of how no one believed he can have a future and describing their family as being at the tail in the past.
In the song he proudly claims that he is bigger today than anyone could've imagined, that he has enough money now and is "over-successful" given that he grew up in extreme poverty, and adversity, also living in the refugee camps and at some point on the streets.
Barnabas Samuel has established himself as one musician who uses his life story as fuel for his music. For some time now fans of Barnabas Samuel have been desiring for more materials that includes him at his tender age and this photo definitely is the thing.
His Younger brother, Jaiksana is also a musician and rapper who is doing so well in his own style. In the old throwback photo, fans now haven gotten the opportunity to see him before his today.
"This photo clearly shows I came from, and for other South Sudanese out there, it shows you that there is always hope despite what you are going through. Poverty is not a hindrance to ones' success. If you are determined and will work very hard, nothing is impossible," he told The Tower Post.
Comments
comments