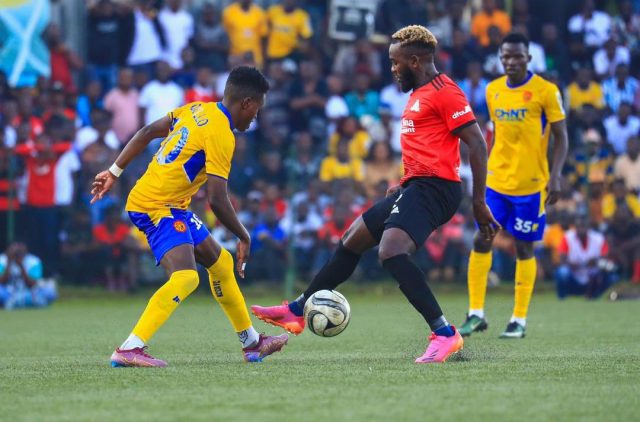 KCCA FC head coach Morley Byekwaso says that they planned well for their game against defending champions Vipers SC.
The Lugogo based silenced Vipers on Saturday with a 1-0 win thanks to Rogers Mato's strike.
Speaking after the final whistle, Byekwaso was quick to express his delight following the victory.
"It really meant a lot to us having lost 3-1 to Arua Hill in our previous game and we were playing a very strong team which had already qualified in the CAF champions League group stages, he told the pressmen.
Mato headed home in the 6th, off a well delivered cross from Allan Okello and his goal was the difference.
But throughout the entire game, Byekwaso's side looked lively, passing with ease, with the Visitors the second best on the day.
"We planned well for this game and we need to plan for more game we are going to play. Games are different like as we are going to meet a tougher opponent in Luzira against Maroons. I have told my boys to remain focused because football is unpredictable, you don't know what will come next, Byekwaso added.
Before Saturday's game, KCCA had lost to Arua Hill 3-1 away from home in what was their second game of the season.
Since that day, Byekwaso said that his boys were feeling the pain to return back to winning ways.
"The boys have been feeling the pain ever since we lost in Arua, the only thing we needed to do was to believe in ourselves, stay disciplined and commited. In the past two weeks, we have really done a lot, today we didn't concede in set pieces as it was in Arua. And God has been there for us, we deserved to the take the day, he said.
Victory on Saturday ensured that KCCA picked their second win this season and they moved to six points after three games so far.
Up next for Byekwaso's men will be a trip to Luzira when they visit Maroons this week on Friday.
Following their massive against a defending champion, Vipers, Byekwaso will be hoping that his side can keep the same momentum as they keep eyes on the big prize this season.
Comments
comments