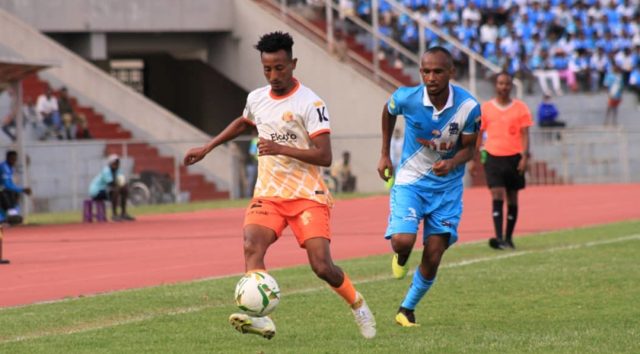 SuperSport viewers can look forward to more thrills and spills from the 2022-23 Ethiopian Premier League, with eight matches scheduled for broadcast from Thursday 9 to Sunday 12 February 2023.
SuperSport is your #HomeOfFootball and the ultimate destination for lovers of 'The Beautiful Game'.
The Ethiopian Premier League 2022-23 season continues on Thursday with Ethiopian Insurance playing host to Adama Kenema, before Diredawa Ketema take on Arbaminch City.
Friday's action features Hawasa Ketema and Fasil Ketema playing host to Bahirdar Ketema and Ethio Electric respectively.
Hawasa's Ephrem Ashamo is hoping his team can rise up the standings in the second half of the campaign: "We are not that far from the top positions… if we can improve then we can challenge for a place in African club competitions."
Saturday opens with Sidama Coffee tackling Legetafo Legedadi, followed by a clash between St. George and Hadia Hosaina.
Hosaina's Dagim Nigussie admits that they have struggled for goals this term, but believes they will be inspired by the challenge of taking on St. George.
"It's always a big game when you face St. George," the defender explained. "We will need to keep strong at the back and improve our attack to have a chance of beating them."
Sunday wraps up the Ethiopian Premier League action for the weekend, staring off with Mekelakeya v Ethiopian Coffee and concluding with Wolkite Ketema v Wolayta Dicha.
Kalkidan Zelalem has been an influential attacker for Wolayta and will be aiming to keep up his form when they tackle Wolkite: "I have had some good moments this season, but I can still improve. I hope to help my team in any way I can and our aim is to rise up the table."
No rival can compete with SuperSport's coverage. Our viewers on DStv and GOtv are able to enjoy some of the world's greatest football, including the Premier League, La Liga, Serie A and the UEFA Champions League, amongst others.
Don't miss the best football action on SuperSport. Visit www.dstv.com and www.gotvafrica.com to subscribe or upgrade, and join in on the excitement. And while you're on the move, you can stream matches on the DStv App.
Ethiopian Premier League broadcast details, 9-12 February 2023
All times CAT
Thursday 9 February
14:00: Ethiopian Insurance v Adama Kenema – LIVE on SuperSport Football, SuperSport Liyu and SuperSport Liyu 2
17:00: Diredawa Ketema v Arbaminch City – LIVE on SuperSport Football, SuperSport Liyu and SuperSport Liyu 2
Friday 10 February
14:00: Hawasa Ketema v Bahirdar Ketema – LIVE on SuperSport Football, SuperSport Liyu and SuperSport Liyu 2
17:00: Fasil Ketema v Ethio Electric – LIVE on SuperSport Variety 1, SuperSport Liyu and SuperSport Liyu 2
Saturday 11 February
14:00: Sidama Coffee v Legetafo Legedadi – LIVE on SuperSport Football, SuperSport Liyu and SuperSport Liyu 2
17:00: St. George v Hadia Hosaina – LIVE on SuperSport Liyu and SuperSport Liyu 2
Sunday 12 February
14:00: Mekelakeya v Ethiopian Coffee – LIVE on SuperSport Variety 1, SuperSport Liyu and SuperSport Liyu 2
17:00: Wolkite Ketema v Wolayta Dicha – LIVE on SuperSport Variety 1, SuperSport Liyu and SuperSport Liyu 2