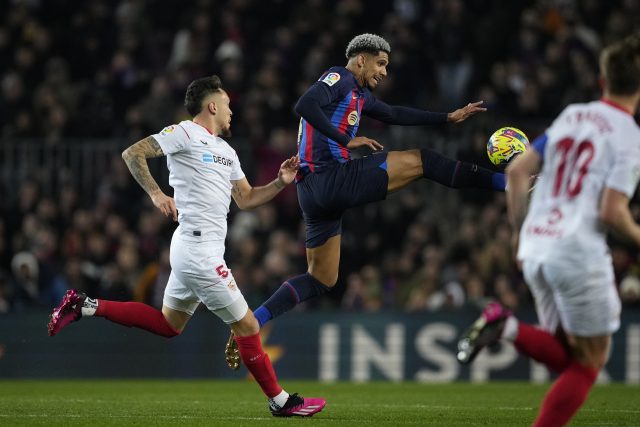 SuperSport viewers on DStv and GOtv can look forward to Round 21 action from the 2022-23 La Liga, with matches scheduled to run from Friday 10 to Wednesday 15 February 2023.
DStv and GOtv is the only true home of football in Africa, offering a range and depth of action that no other rival can match – it's literally 'Unbeatable Football'! If you're going to spend your money on something, it may as well be on the best football in the world.
SuperSport is the only place where you can get English commentary on the legendary La Liga, where the headline fixture for this round sees Villarreal play host to Barcelona at Estadio de la Ceramica. The Yellow Submarine have improved greatly since the World Cup break, but do they have what it takes to dent the Blaugrana's push to win the championship?
Villarreal boss Quique Setien recently revealed that he should have left his post at Barcelona in 2020 after just one month in charge due to difficulties in fulfilling the role he wanted to.
"Barca was the team I had always dreamed of coaching, but if you see there are things you can't change, you should leave," said the 64-year-old. "But it is an opportunity you have dreamed of forever. And arriving through one door and leaving through another the next month like [Jose Antonio] Camacho did [at Real Madrid in 1998]… There was a moment I thought about it, but you overcome those moments. If there are things that don't fit, you should not be a hypocrite and you should go."
Champions Real Madrid have a clash at home to Elche and will expect a three-point haul, while Real Sociedad are away to Espanyol and looking to keep up momentum in their push to finish in the top four.
"We are not putting limits on where we can finish this season," said La Real's Alexander Sorloth. "We are just keeping to our processes and focusing on one game at a time. Where will we be at the end of the season? Hopefully very high up the log, but we will need to keep working hard to achieve that."
Elsewhere, Atletico Madrid are away to Celta Vigo and Valencia will welcome Athletic Bilbao to Estadio de Mestalla – with Bilbao manager Ernesto Valverde looking to young centre-back Aitor Paredes to continue his impressive development.
"I have seen him very well," said Valverde. "The truth is that we have a lot of confidence in him because he is a very sober player, a player who faces situations well, who then takes the game well from you, who is good in personal duels."
No rival can compete with SuperSport's coverage. Our viewers on DStv and GOtv enjoy an unrivalled selection of football from around the world!
Don't miss the best football action on SuperSport on DStv and GOtv. Visit www.dstv.com and www.gotvafrica.com to subscribe or upgrade, and join in on the excitement. And while you're on the move, you can stream matches on the DStv App.
La Liga broadcast details, 10-15 February 2023
All times CAT
Friday 10 February
22:00: Cadiz v Girona – LIVE on SuperSport La Liga, SuperSport Maximo 3 and SuperSport GOtv La Liga
Saturday 11 February
17:15: Almeria v Real Betis – LIVE on SuperSport La Liga, SuperSport Maximo 3 and SuperSport GOtv La Liga
19:30: Sevilla v Mallorca – LIVE on SuperSport La Liga, SuperSport Maximo 3 and SuperSport GOtv La Liga
22:00: Valencia v Athletic Bilbao – LIVE on SuperSport La Liga, SuperSport Maximo 3 and SuperSport GOtv La Liga
Sunday 12 February
15:00: Getafe v Rayo Vallecano – LIVE on SuperSport La Liga, SuperSport Maximo 3, SuperSport GOtv Football and SuperSport GOtv La Liga
17:15: Celta Vigo v Atletico Madrid – LIVE on SuperSport La Liga, SuperSport Maximo 3 and SuperSport GOtv La Liga
19:30: Real Valladolid v Osasuna – LIVE on SuperSport La Liga, SuperSport Maximo 3 and SuperSport GOtv La Liga
22:00: Villarreal v Barcelona – LIVE on SuperSport La Liga, SuperSport Maximo 1, SuperSport Maximo 3, SuperSport GOtv Football and SuperSport GOtv La Liga
Monday 13 February
22:00: Espanyol v Real Sociedad – LIVE on SuperSport La Liga, SuperSport Maximo 3 and SuperSport GOtv La Liga
Wednesday 15 February
22:00: Real Madrid v Elche – LIVE on SuperSport La Liga, SuperSport Maximo 3 and SuperSport GOtv La Liga