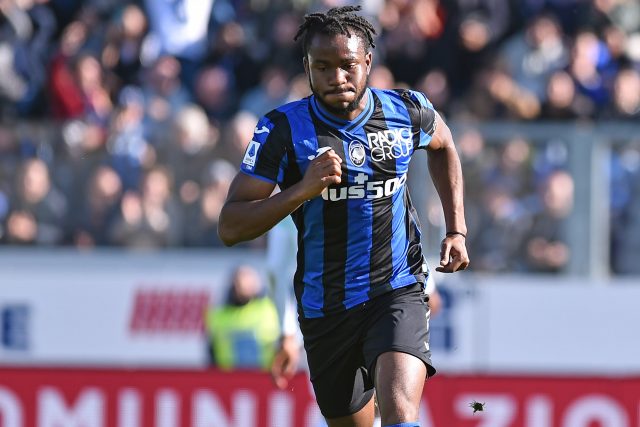 SuperSport viewers on DStv and GOtv can look forward to Round 22 action from the 2022-23 Serie A, with matches scheduled to run from Saturday 10 to Monday 13 February 2023.
DStv and GOtv is the only true home of football in Africa, offering a range and depth of action that no other rival can match – it's literally 'Unbeatable Football'! If you're going to spend your money on something, it may as well be on the best football in the world.
The top clash from Serie A in this round sees Lazio host Atalanta at Stadio Olimpico on the evening of Saturday 11 February. Both Le Aquile and La Dea's hopes of finishing in the top four have been boosted by Juventus' 15-point penalty, making this a key clash for both clubs.
Atalanta manager Gian Piero Gasperini recently gave special praise to Nigerian attacker Ademola Lookman and youth product Giorgio Scalvini.
"Lookman had an extraordinary performance. We conceded two goals in the first half by losing the ball pretty cheaply, and those are situations where we should've been more careful," said Gasperini.
"He [Scalvini] is a leader, despite being 19 years old, both on and off the field. He is destined for greatness, you can play him anywhere and he'll do the job. I like him in defence, because he is confident playing out from the back, has class and quality."
The round of action opens on Friday night with Milan hosting Torino, while Saturday also features Empoli hosting Spezia and Roma visiting Lecce – with Giallorossi manager Jose Mourinho admitting that he prefers having plenty of time to prepare his team tactically.
"The difference is playing once every week," said the Portuguese. "You have seven days to work on and prepare all the tactical details. There is no fatigue, the team functions properly. I'm always happy with the team when we play once a week. After the winter break we were able to get off to a good start and collect the points we needed in order to improve our position in the league."
A busy Sunday is headlined by league leaders Napoli welcoming Cremonese to Stadio Diego Armando Maradona, as well as Juventus hosting Fiorentina in Turin, while the round closes out on Monday with a pair of evening games as Verona and Sampdoria play host to Salernitana and Internazionale respectively.
No rival can compete with SuperSport's coverage. Our viewers on DStv and GOtv enjoy an unrivalled selection of football from around the world!
Don't miss the best football action on SuperSport on DStv and GOtv. Visit www.dstv.com and www.gotvafrica.com to subscribe or upgrade, and join in on the excitement. And while you're on the move, you can stream matches on the DStv App.
Serie A broadcast details, 10-13 February 2023
All times CAT
Friday 10 February
21:45: AC Milan v Torino – LIVE on SuperSport Football, SuperSport Maximo 360 and SuperSport GOtv Select 1
Saturday 11 February
16:00: Empoli v Spezia – LIVE on SuperSport Football and SuperSport GOtv Select 1
19:00: Lecce v Roma – LIVE on SuperSport Football, SuperSport GOtv Football and SuperSport GOtv Select 1
21:45: Lazio v Atalanta – LIVE on SuperSport Football, SuperSport Maximo 1, SuperSport Maximo 360 and SuperSport GOtv Select 1
Sunday 12 February
13:30: Udinese v Sassuolo – LIVE on SuperSport Football, Super Maximo 1, SuperSport Maximo 360 and SuperSport GOtv Select 1
16:00: Bologna v Monza – LIVE on SuperSport Football, SuperSport Maximo 360 and SuperSport GOtv Select 1
19:00: Juventus v Fiorentina – LIVE on SuperSport Football, SuperSport Maximo 360, SuperSport GOtv Football and SuperSport GOtv Select 1
21:45: Napoli v Cremonese – LIVE on SuperSport Football, SuperSport Maximo 360 and SuperSport GOtv Select 1
Monday 13 February
19:30: Verona v Salernitana – LIVE on SuperSport Football, SuperSport Maximo 1, SuperSport Maximo 360 and SuperSport GOtv Select 1
21:45: Sampdoria v Internazionale – LIVE on SuperSport Football, SuperSport Maximo 360 and SuperSport GOtv Select 1