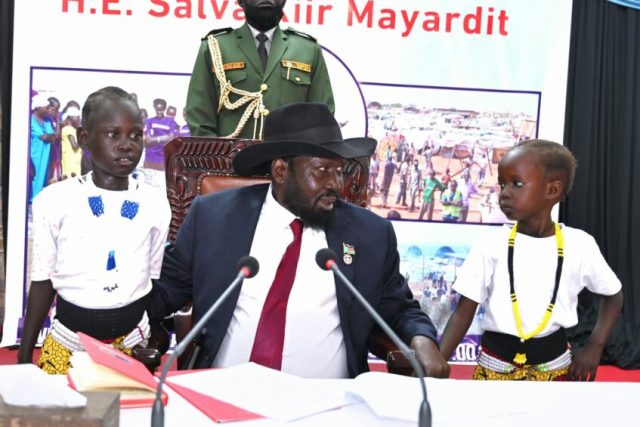 President Salva Kiir Mayardit has expressed support for facilitating the voluntary return of refugees after meeting their representatives including IDPs in Juba on Wednesday.
The President's session was held under the theme: Forgiveness, Reconciliation, Peace, and Resettlement aimed at promoting unity among the people of South Sudan, according to the presidential press unit.
"With peace implementation moving towards the final phase where elections will end the transitional period, repatriating our people from the camps in neighboring countries should top our agenda," President Kiir said.
The head of state reportedly appealed to the IDPs and refugees to return to their respective areas of origin or the capital city, Juba.
He is said to have assured the displaced persons of their security while calling on the international partners to support the government in reintegrating returnees back to their areas of origin.
"For those who will opt to return to their habitual areas of residence, the government will provide security and would work jointly with partners to organize logistics around what is needed to resettle successfully in those areas," he said.
"Equally, for those who cannot go back to their areas of residence, we have spoken to authorities in states where IDPs camps are located to set aside land to resettle them,' he added.
He reiterated his call to state authorities to allocate land to the IDPs.