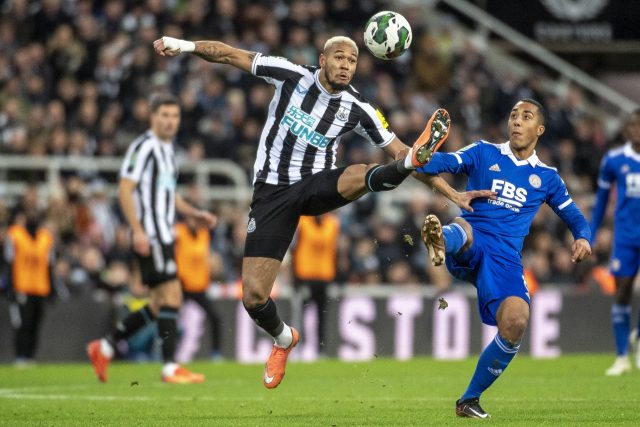 SuperSport viewers on DStv and GOtv can look forward to seeing the Final of the 2022-23 Carabao Cup, which pits Manchester United against Newcastle United at Wembley Stadium in London on the early evening of Sunday 26 February 2023.
SuperSport is your #HomeOfFootball and the ultimate destination for lovers of 'The Beautiful Game'.
This chance to win silverware is a key moment for both clubs. Manchester United are looking to claim a trophy for the first time since the 2017 UEFA Europa League and consolidate the impressive progress they have made in manager Erik ten Hag's first season in charge.
"It's good to reach the final, of course, but it's not about reaching the final," said Ten Hag. "It's about winning it. It's going to be tough, because we face a great opponent in Newcastle. "It has to be a huge motivation to us in the first place and we obviously want to bring that cup home to the fans."
As for Newcastle United, their Saudi Arabian-led ownership has brought about a revolution under manager Eddie Howe, and nothing would underscore their ominous potential more than a first domestic cup triumph since 1955 (when they won the FA Cup).
"It's been a brilliant ride to this point and we are really pleased to be in the final," said Howe. "Now we want to go one step further and win the trophy. We want to create new history for ourselves. As humans, you think you want something, then you achieve what you wanted, which is getting to the final, then you go, 'I am not happy with that, we've got to win it'. That is a great thing and I want my players to feel the same way."
Key players
Marcus Rashford – The Manchester United forward is enjoying the best season of his career thus far, and would love to underline his work in 2022-23 with a starring performance in the Carabao Cup final.
Joelinton – The Brazilian has converted from a forward to a superb box-to-box midfielder in the past year, becoming the driving force behind Newcastle United's vast improvement under manager Eddie Howe.
Head-to-head stats
In head-to-head stats, Man United and Newcastle have met in 174 matches across all competitions since 1895. The Red Devils have claimed 90 wins compared to 43 for the Magpies, while 41 games have been drawn.
Their last knockout meeting was in the Carabao Cup in 2012 – with Man United winning 2-1 – while their most recent Premier League clash was at Old Trafford in October 2022 and ended in a goalless stalemate. The Red Devils are unbeaten in their last six matches against the Magpies.
Battles to watch
Erik ten Hag v Eddie Howe – Both Ten Hag and Howe have done outstanding jobs in turning previously dysfunctional teams into winning outfits – now their challenge is to go one step further and convince them that Carabao Cup glory is theirs for the taking.
Raphael Varane v Alexander Isak – Varane is a 'Rolls Royce' defender who always seems unflappable, but he'll have to be at his best to quell the attacking threat offered by the athletic and agile Isak.
Casemiro v Bruno Guimaraes – Two brilliant Brazilian midfielders, Casemiro and Guimaraes will battle for control of the 'engine room' and look to give their respective team a major advantage for this clash at Wembley Stadium.
No rival can compete with SuperSport's coverage. Our viewers on DStv and GOtv enjoy an unrivalled selection of football from around the world!
Don't miss the Football Season on SuperSport on DStv and GOtv. Visit www.dstv.com and www.gotvafrica.com to subscribe or upgrade, and join in on the excitement. And while you're on the move, you can stream matches on the DStv App.
Carabao Cup Final broadcast details, 26 February 2023
All times CAT
18:30: Manchester United v Newcastle United – LIVE on SuperSport Premier League, SuperSport Maximo 1, SuperSport Maximo 360 and SuperSport GOtv Football