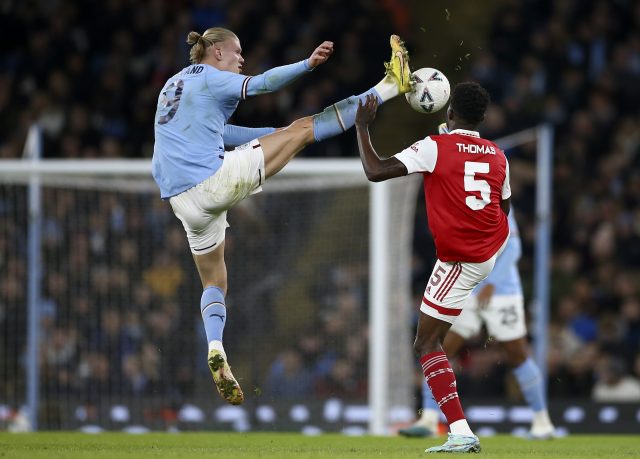 SuperSport viewers on DStv and GOtv can look forward to Fifth Round proper action from the FA Cup, with matches scheduled to be played from Tuesday 28 February to Wednesday 1 March 2023.
DStv and GOtv is the only true home of football in Africa, offering a range and depth of action that no other rival can match – it's literally 'Unbeatable Football'! If you're going to spend your money on something, it may as well be on the best football in the world.
SuperSport will feature all eight FA Cup matches in this round, with Tuesday's action headlined by Premier League champions Manchester City visiting EFL Championship club Bristol City at the Ashton Gate Stadium.
The Robins have come through a tough spell but look eager to take on the Citizens in this FA Cup clash, according to manager Nigel Pearson: "The foundation is hard work and togetherness because when you get criticism, it's never easy to take but it's always easier to bear when you share it," he explained.
"We can work together to turn it around and that will never change. Everybody comes under pressure at some point but I think what the players have shown is a belief in each other to just keep performing. For the time being, things are going well but we've got difficult games coming up now so the challenge is to just keep that going."
Tuesday also features Leicester City taking on Blackburn Rovers, Leeds United visiting Fulham and Stoke City playing host to Brighton & Hove Albion, while the pick of Wednesday's match is an all-Premier League clash between Manchester United and West Ham United at Old Trafford.
"We are going to play one of the best form teams, at home, with a great stadium and great crowd. I really am looking forward to it and think it is the sort of game we need, we have got a lot of big players who will thrive on that sort of occasion," said Hammers manager David Moyes.
Wednesday also features Southampton hosting Grimsby Town, Fleetwood Town visiting Burnley, and Sheffield United welcoming Tottenham Hotspur to Bramall Lane.
No rival can compete with SuperSport's coverage. Our viewers on DStv and GOtv enjoy an unrivalled selection of football from around the world!
Don't miss the Football Season on SuperSport on DStv and GOtv. Visit www.dstv.com and www.gotvafrica.com to subscribe or upgrade, and join in on the excitement. And while you're on the move, you can stream matches on the DStv App.
FA Cup broadcast details, 28 February – 1 March 2023
All times CAT
Tuesday 28 February
21:15: Stoke City v Brighton & Hove Albion – LIVE on SuperSport PSL
21:30: Leicester City v Blackburn Rovers – LIVE on SuperSport La Liga, SuperSport Maximo 3 and SuperSport GOtv La Liga
21:45: Fulham v Leeds United – LIVE on SuperSport Variety 3 and SuperSport GOtv Football
22:00: Bristol City v Manchester City – LIVE on SuperSport Premier League and SuperSport Maximo 2
Wednesday 1 March
21:15: Southampton v Grimsby Town – LIVE on SuperSport La Liga and SuperSport GOtv Select 1
21:30: Burnley v Fleetwood Town – LIVE on SuperSport Variety 1
21:45: Manchester United v West Ham United – LIVE on SuperSport PSL and SuperSport Maximo 1
21:55: Sheffield United v Tottenham Hotspur – LIVE on SuperSport Football, SuperSport Maximo 360 and SuperSport GOtv Football