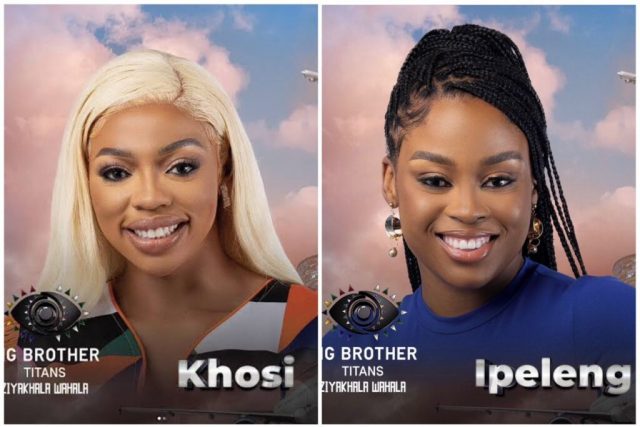 As the biggest event on the continent nears its conclusion, housemates enjoy their final HoH challenge
It would be a serendipitous end to a season of pairs when Biggie announced two Heads of House (HoH) – Ipeleng and Khosi.
While it is the final week of the border-breaking #BBTitans, Khosi (SA), Ipeleng (SA), Ebubu (Nigeria), Tsatsii (SA), Kanaga Jnr (Nigeria) and Yvonne (Nigeria) have something to look forward to in the form of possibly being announced as the grand prize winner of that impressive US$100,000.
The housemates dove headfirst into this week's challenge, as Biggie turned the arena into his jungle.
To win the final HoH title, the challenge consisted of five rounds – with the winner receiving access to the Head of House lounge. They battled it out as outgoing HoH Tsatsii read out instructions. This would have the remaining six housemates in stitches.
The task? In two rounds for one minute, the housemates were asked to do the following: Yvonne was to moo like a cow, Ebubu to buzz like a bee, Kanaga Jr to oink like a pig, Khosi to roar like an angry lion, Ipeleng to roll like a pig in the mud, and Yvonne to hiss like a snake.
When the housemates entered the arena, Biggie asked them to walk around his jungle and familiarize themselves with it. In the arena, eggs were placed, and for the final round, the housemates had to highlight the number of eggs they found on a whiteboard. The housemate who made the closest guess won the challenge. Khosi and Ipeleng emerged victorious, both guessing 11 eggs – the correct answer was 21.
To end an entertaining night, the Big Brother Titans finalists each wrote a five-minute speech detailing some of the lessons they have learned on this journey and during their stay in the #BBTitans house.
Ebubu shared that the experience gave him the opportunity to reflect and become more self-aware and confident. Ipeleng shared that she learned more about the cultural diversity Nigeria has to offer. "Through this experience, I learned life lessons that will last a lifetime," she told Biggie and her fellow housemates. Kanaga Jr said he had waited for an opportunity to showcase who he is and the #BBTitans house gave him that chance. "From fashion to my beliefs, I expressed myself in different ways. This was a once-in-a-lifetime opportunity that showed me that I possess a lot of greatness and now I am determined to share it with the world."
Originally joining the show to become rich, famous and a star, Khosi said she's changed her mind because this opportunity is way too big and impactful. "I was tired of being average. I needed to challenge myself and see how far shooting for the stars would take me."
Tsatsii stressed the importance of representation in changing people's lives, while Yvonne described the experience as an emotional rollercoaster. "I am so proud of myself for living my dreams. Winning US$100,000 is fine but this experience is priceless. I am walking out a confident, resilient and fulfilled girl."
Fans only have until Friday 31 March at 22:00 to vote for their favourite housemate to win this season of Big Brother Titans. Go to the DStv and GOtv Self Service Apps or at dstv.com/bigbrothertitans.
Catch Big Brother Titans live, 24/7 on DStv Channel 198 and GOtv Channel 29. It's also streaming on Showmax in more than 50 territories, including the United Kingdom and New Zealand. Keep up with the conversation with the hashtag #BBTitans, visit dstv.com/bigbrothertitans, and follow @BigBroAfrica on Twitter, bigbro_africa on Instagram, @BigBrotherAfrica on Facebook, and @bbtitans_official on TikTok.