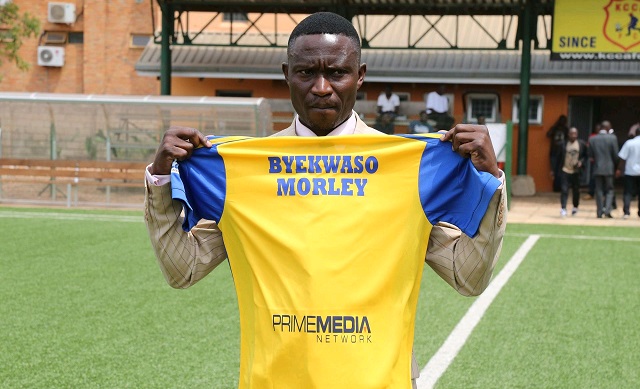 KCCA FC is yet to decide on the next move after the team's head coach Morley Byekwaso resigned from his job on Sunday evening.
Byekwaso confirmed his departure to the media after KCCA FC's 1-0 loss to Bright Stars in the Uganda Cup match played at Kavumba Recreation grounds. This was the second year in a row that Bright Stars has eliminated KCCA FC from the Cup.
Byekwaso said that he realized that his decisions were not respected by some of his players, making reference to Congolese striker Simon Kankonde who opted to take a crucial penalty kick during the encounter against Bright Stars despite not being the designated penalty taker. He missed the penalty and Jeopardised KCCA's chances in the competition.
" I have taken the decision as a coach because I'm seeing a lot of player power in the team. I am not going to carry on facing such situations," he said. When we train, we give players roles and when they don't take responsibility and respect roles it brings disorganization," he added
Shortly after he was escorted by security out of Kavumba as a throng of KCCA FC fans eagerly waited for him outside the stadium. While some supporters appreciated his decision to step down, others hurled insults at him asking him to quit with his entire technical bench.
KCCA FC released a short statement this morning acknowledging that they are aware of the situation but did not divulge any further details or comments. "The club takes note of events that happened yesterday regarding the head coach. We shall communicate the way forward in due course." the statement read.
Byekwaso who had served as assistant head coach for KCCA FC replaced Mike Mutebi as the team's head coach in March 2021, first on an interim basis before signing a three-year deal in June 2021. His first season saw KCCA FC finish second in the league with 18 points behind eventual winners Vipers FC.
In the ongoing season, the club signed several experienced players to help it return to the best and indeed started on a top-notch. They were once six points clear on the top of the table.
However, fortunes began to wane a month ago, when SC Villa, overtook them on the table. Their dip in form is evidenced by a series of three consecutive draws against Maroons, UPDF, and Blacks Power, respectively which poses a significant threat to their championship aspirations.
Byekwaso leaves KCCA FC in second place with 36 points, five points behind table leader SC Villa. Vipers is placed third with 32 points.