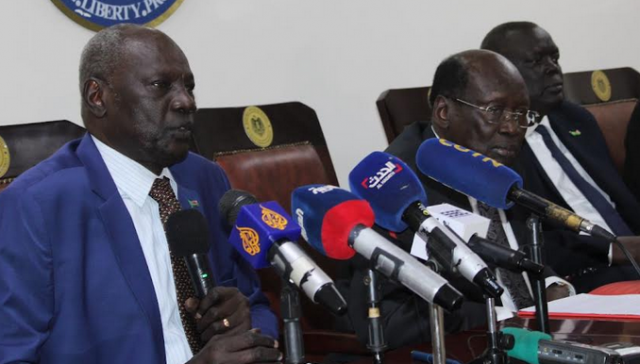 South Sudanese President Salva Kiir Mayardit has urged the warring parties in Sudan to ceasefire for three additional days so that civilians can access food and health services.
Addressing a joint press conference at the president's office in Juba, Acting Foreign Minster Deng Dau Deng Malek said President Kiir has been in constant communication with the Chairman of Sudan`s Transitional Sovereignty Council Gen. Abdel Fattah al-Burhan, and the leader of the Rapid Support Forces (RSF), Gen. Mohamed Hamdan Dagalo.
"The President talked to President al-Burhan yesterday and again spoke to him this (Wednesday) morning to reinforce his message of supporting the existing ceasefire but the president has requested an additional ceasefire for three days that should commence on 28 April because the current ceasefire is from 25 to 28 April," he said. "So, the president talked to Burhan who accepted (the proposal) and he is also engaging Gen. Himedti (Hamdan)."
Dau revealed that South Sudan`s Embassy in Sudan will remain operational as President Kiir has been chosen to spearhead mediation efforts between the belligerents in Sudan.
"We have been directed as the foreign ministry to keep our embassy in Sudan open for many reasons," he said. "We have a large population of South Sudanese in Sudan and the president is the lead person tasked to mediate by IGAD so he needs people on the ground to be able to talk to both parties."
"This is also confidence building because South Sudan cannot abandon Sudan even if they are in crisis," Dau added.
Meanwhile, Presidential Affairs Minister Dr. Barnaba Marial Benjamin said the government decided to keep its embassy in Khartoum open to find ways of halting the war in Sudan.
"The government has decided to keep our embassy open and active to be on the spot," he said. "We are not closing our embassy and it will remain open so that they can be engaged in their active duties to help bring a ceasefire to our brothers and sisters in Sudan."
Minister Marial revealed that President Kiir is in communication with the presidents of Kenya and Djibouti to explore mechanisms for finding a solution to the conflict in Sudan.
On his part, Information Minister Michael Makuei Lueth said the government maintains neutrality in Sudan's conflict as it can adversely affect South Sudan.
"The Government of South Sudan is clearly against the war in Sudan and is neutral in the war there. The Government of South Sudan calls upon the fighting groups to go for caseation of hostilities," Makuei said. "Our main objective is that the people of Sudan live in peace and that the bloodshed which is now taking place should stop and we want our brothers and sisters in Sudan to live in peace and harmony. As a government, we do not like to see our neighbors in crises."
According to Makuei, a problem in Sudan ultimately spills over and affects South Sudan.
"We do not want this to happen which is why we are calling upon the fighting parties to cease hostilities and sit down to negotiate," he added.