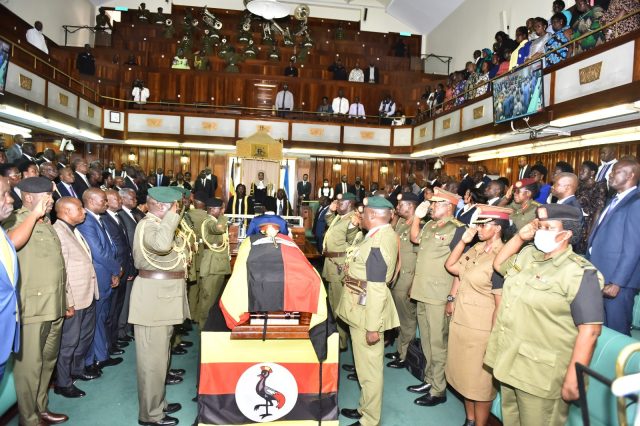 Members of Parliament have paid tribute to the late Minister of State for Employment and Industrial Relations, Col (Rtd) Charles Okello Engola Macodwogo who was assassinated on 02 May 2023 at his home in Kyanja.
Legislators commended the late for his contribution of service to Uganda.
The special sitting to honour the late Engola was chaired by Speaker Anita Among on Tuesday, 09 May 2023.
The Prime Minister Robinah Nabbanja who moved the motion to honour the former minister said that Engola was patriotic, committed and distinguished as he carried out all his assignments.
Nabbanja highlighted his contribution in in bringing peace in Northern Uganda.
"Engola was a war hero and played a fundamental role in the pacification of Northern Uganda against the Lord's Resistance Army insurgency," she said.
The Leader of the Opposition, Hon. Mathias Mpuuga said that Engola lived intently as a gallant soldier and answered the highest call to serve his nation professionally.
He commended the late for his efforts in regulating the externalization of labour, a task he said had proven almost impossible to achieve.
"As a country, let us not close our minds to the high-profile murders and all other murders that keep happening without any culprits being brought to book. The late was against unlicensed exportation of our people abroad and that is why he cancelled many companies that were practicing such vices," Mpuuga said.
The Minister of Justice and constitutional Affairs, Hon. Nobert Mao reminisced the days at the height of the Lord's Resistance Army insurgency and how Engola was at the fore front of eliminating the LRA.
"Macodwogo was a fierce fighter; he worked tirelessly to ensure that Kony's bases were destroyed. And this is how he was able to bring back joy to the women of Northern Uganda earning him the praise name, Macodwogo," he recalled.
Engola will be buried in his ancestral home in Oyam District on Saturday.