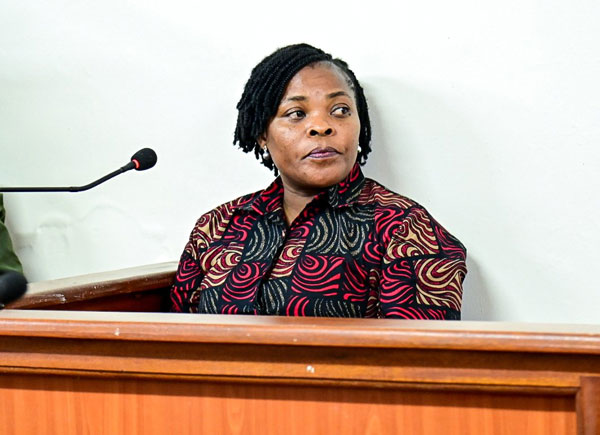 The Anti-Corruption Court has dismissed an application made by State Minister for Karamoja Affairs, Agness Nandutu, to halt her trial in connection with the iron sheets scandal. Lady Justice Jane Okuo Kajuga ruled against Nandutu's request to forward her case to the Constitutional Court for an interpretation of the charges, questioning whether her right to a fair hearing would be infringed upon. Nandutu faces charges of dealing with suspect property, as alleged by the prosecution.
It is claimed that during June 2022, at the Office of the Prime Minister's Stores in Namanve and Kkola Cell Bulwanyi Parish, Mukono District, Nandutu was involved in the handling of government property, specifically 2,000 pre-painted iron sheets Gauge 28. The prosecution argues that Nandutu had reason to believe these iron sheets were obtained through the loss of public property, an offense under Section 10 of the Anti-Corruption Act of 2000 as Amended.
During the hearing, Nandutu's lawyers, led by Caleb Alaka, objected to proceeding with the case, citing imprecise, ambiguous, and vague charges that could potentially infringe upon her right to a fair hearing. They argued that the charges were not clear, as the charge sheet specified one offense of dealing with the suspect property while introducing another charge of causing the loss of public property in the particulars of the offense.
Alaka also revealed that they had filed a constitutional petition seeking the interpretation of Section 21A of the Anti-Corruption Act, under which Nandutu was being charged. The petition argues that this provision is imprecise and fails to guarantee a fair hearing as protected by the Constitution. They sought a declaration that the law and the actions of the police and Director of Public Prosecutions in charging Nandutu under this provision are unconstitutional.
In response, the prosecution, represented by Jonathan Muwaganya and David Bisamunyu, opposed halting the trial, asserting that the charges were clear and did not require constitutional interpretation. They accused Nandutu and her legal team of engaging in a "fishing expedition" by filing both a constitutional petition and an application for reference by another court, thereby wasting time and violating the right to a fair and speedy hearing.
In her ruling, Lady Justice Kajuga agreed with the prosecution, dismissing Nandutu's application. She deemed the charge against Nandutu to be clear and framed in a manner easily understandable by the ordinary person. Kajuga emphasized that the charges did not exhibit the ambiguity and vagueness that would necessitate forwarding the case to the Constitutional Court. She advised Nandutu that if she wished to halt her trial, she should seek a temporary injunction from the Constitutional Court instead.
Following the ruling, State Attorney Jonathan Muwaganya requested at least one hour to present witnesses against Nandutu, but her defense lawyers, Caleb Alaka and Evans Ochieng, requested an adjournment to review the ruling and determine their next steps. Consequently, the trial has been adjourned until June 8th, 2023, when the proceedings will commence.