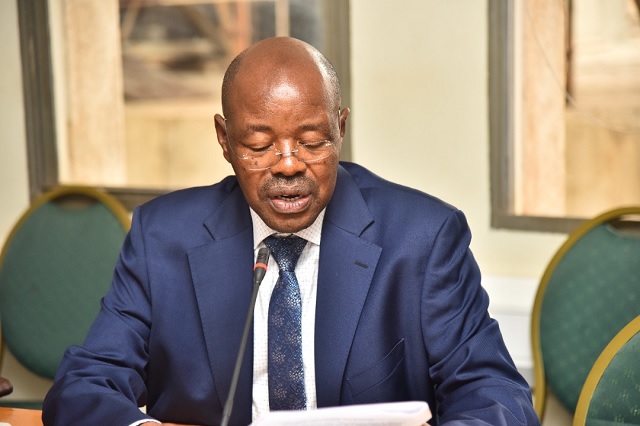 The Anti-Corruption Court in Kampala has issued a criminal summons against State Minister for Finance and Economic Planning Amos Lugoloobi after failing to appear in court.
The summons were issued on Friday by Chief Magistrate Moses Nabende after a request by State Attorney Safina Bireke. Bireke said that Lugoloobi was expected to attend court in the iron sheets case where he is accused of two counts of dealing with suspect property. But he did not show up.
Bireke also informed the court that investigations into this case are still ongoing and asked to be given a short adjournment and criminal summons be issued against the accused.
Lugoloobi's lawyers led by John Isabirye and Tony Tumukunde asked Court not to issue criminal summons against their client saying that they informed the court that their client is traveling out of the country for State duties and specifically to attend the African Policy Dialogue which was for yesterday and today in Lusaka Zambia.
The court has heard that Lugoloobi's lawyers served the prosecution the letter containing details of their client's travel on May 19th, 2023, and his passport which was before the court was released to him for official travel.
The lawyers informed the court that Lugoloobi will be around at the next court session.
Nabende issued a criminal summons against Lugoloobi adding that the trial Magistrate is indisposed and directed the accused to appear before Court on June 29th, 2023.
Lugoloobi was granted a cash bail of 10 million Shillings after denying the charges against him and ordered not to travel outside the country unless permitted by the Court.
The prosecution alleges at Lugoloobi while at the office of the Prime Minister Stores in Namanve in Mukono District and at different places in Matuga, Wakiso District and Ntejeru North Constituency in Kayunga District dealt with government property 700 prepainted iron sheets marked 'Office of the Prime Minister.
According to the prosecution, the iron sheets which were reportedly acquired as a result of loss of property an offense under section 10 (1) of the Anti-Corruption Court were obtained in two phases with one involving 400 iron sheets between July 14th 2022 and February 2023, and another batch of 300 iron sheets obtained between February 1st 2023 and March 16th 2023.