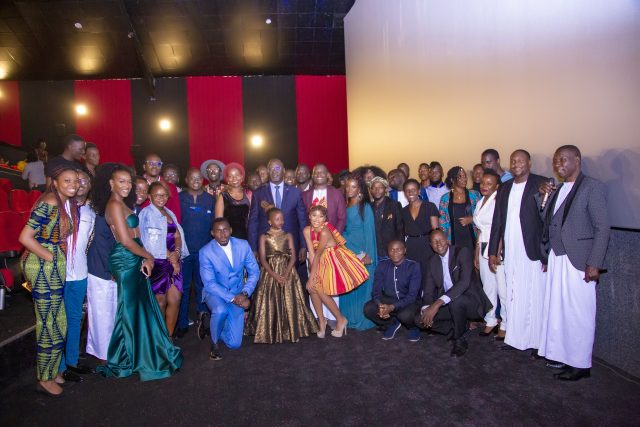 MultiChoice Uganda the home of great Pay-Tv entertainment together with communications regulator Uganda Communications Commission (UCC) bring you Uganda's traditional folktale in a short film; Nambi
The short film showed for the very first time in a screening at Century Cinemax, Metroplex Naalya on 30th May 2023. It tells the story of Nambi, a goddess who had to give up her powers in exchange for a life on earth with caveman Kintu against the advice of her dear father Ggulu. Her troublesome brother Walumbe attempts to hinder the affair while her youngest brother Kayikuzi does everything to protect her.
Owek. Robert Nsibirwa the Deputy Katikiro commended the cast and crew of Nambi for the great investment especially in technology used to bring out the Buganda tradition.
"On behalf of the King and the entire Buganda kingdom, I congratulate you upon this initiative, we pledge our support to make sure this film goes beyond our boundaries. Entrepreneurship is not easy, especially when you are not aware it will succeed. Thank you for the sacrifice to try and show the world our culture." Nsibirwa commented applauding MultiChoice for their investment in local content. "My family and I are always glued onto Pearl Magic and Pearl Magic prime because of the relatability of stories, personally I love Mizigo Express and I thank the MultiChoice team for bringing Ugandan content even closer to us."
Rinaldi Jamugisa, PR and Communications Manager MultiChoice Uganda remarked that the film resonates with the continued need for us to tell local stories that enrich the lives viewers.
"We continue to pride ourselves in creating opportunities for filmmakers in Uganda to connect with their audiences through the stories they tell. Nambi is one such example that has both historical and futuristic nuances in telling of its story," Jamugisa said, adding that, "Viewers today clearly relieved their time in schools and homes where the story was most told, giving a leap to imagination and bringing to life the story of the first man and woman in Buganda."
Jamugisa observed that, "Watching Nambi is a thrilling experience that weaves the use of Technologies like CGI in its delivery allowing viewers to experience the story first hand like you are right there, in it. This film holds immense value as it explores societal and cultural nuances that foster unity and shape our collective identity."
"The film industry in Uganda is growing and we acknowledge it's significance as a major employer and driver of economic growth," Jamugisa concluded.
Nambi, an adaptation from the original Ugandan Kintu folk tale, tells the popular story from a fresh perspective that introduces her character to the minds and hearts of our audiences in a new and compelling way.
Peter Mukiibi the director of the film expressed the importance of showcasing Ugandan culture to the younger generations.
"By bringing this traditional tale to the screen, the film will help preserve, and promote the Ugandan and Buganda culture, while also fostering cross-cultural understanding and appreciation." Mukiibi articulated adding that, "Adapting this story into a short film ensures that the narrative is not lost to time while showcasing the country's rich heritage and mythology to a wider audience."
Nambi not only tells the compelling story of Kintu through Nambi's eyes but also reflects on the challenges women such as these mentioned, face in pursuing their birth right to lead in traditional and non-traditional institutions.
"The Kintu story has been passed on from generation to generation and may have been altered over the years. This makes a great opportunity for retelling the story from a fresh perspective with his wife Nambi at the forefront as the dominant and main character," Mukiibi added calling upon Ugandans to vote for the film, "We are pretty excited for the nomination in the Uganda Film Festival and I implore my fellow countrymen to vote."
Ruth Kibuuka the manager of content development at UCC demonstrated the commission's goal to improve the industry socially, economically and politically.
The film showcases names such as Bint Kasedde as Kintu, Jenkins Joel Mutumba as Kayikuzi, Opio Moses Isingoma as Ggulu and Doreen Nabbanja as Nambi.
Nambi employed a 70-person crew while attracting crews from Belgium and USA emphasizing Uganda's proactive coproduction strategy.
Nambi is one of the many films that will be showing across the different cinemas in Uganda as part of the tenth celebration of UFF.