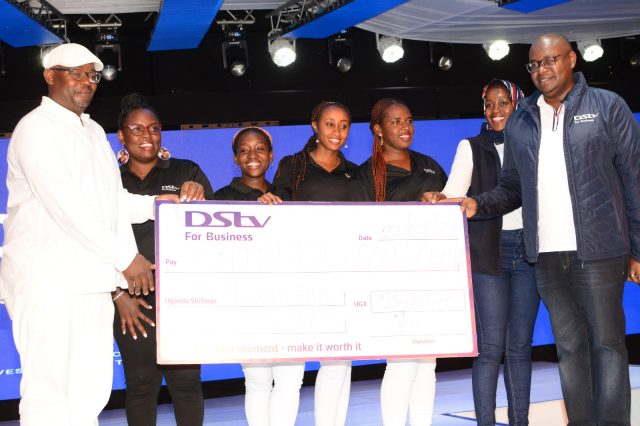 In a bid to give a new lease of life to Golf in Uganda, MultiChoice Uganda, the home of great Pay-Tv entertainment through its DStv For Business division, has today handed over a cheque worth Shs.25 million to Uganda Breweries and Entebbe Golf Club, in support of the Singleton Match Play Challenge, an annual golf tournament held at the Club.
The cheque was handed over to the organizers of the event at the lush Entebbe Golf Club where the challenge has been held for the past 7 years.
Through the challenge, DStv For Business and Uganda Breweries Limited have managed to harness the potential of the sport of golf as a unifier to bring individuals from all walks of life together and unite them through their passion.
Speaking at the event, Rinaldi Jamugisa, the Head of PR & Corporate Affairs at Multichoice Uganda emphasized the benefits of such partnerships in fostering a vibrant business environment.
"Golf is a sport associated with the best in the world in terms of facilities, preparation, execution, and entertainment value. As a brand that aspires to provide the very best in entertainment for our customers, these values are very much in tune with what we hope to achieve. Such a partnership fortifies the level and the space in which we are operating in trying serve to our customers," Jamugisa said.
On why it was important for DStv For Business to show appreciation for the partnership, Jamugisa added "As our token of appreciation to this close-knit family of golf lovers with whom we share the joy of success and stand with together when things don't turn out as planned. We would like to share our contribution to the tournament as a show of appreciation for the three years we have partnered with this event."
Henry Muwaga, the Head of DStv For Business while handing over the cheque to the Chairman of Entebbe Golf club stressed their commitment to the Golf fraternity.
"Today, we are thrilled to join forces with all partners and friends of Golf to create an unforgettable event that will captivate golf enthusiasts and spectators alike," he said.
"This commitment to golf is to cement the relationship we have cultivated with this event in the three years we have partnered in it. At Multichoice Uganda we consistently strive to provide cutting-edge solutions and deliver exceptional entertainment experiences to our valued customers which speaks to the importance of fostering relations to help each other grow like we have done with Entebbe Golf club today," Muwaga added.
Serwano Walusimbi, the Captain Entebbe Golf Club welcomed DStv for Business's contribution as one that is in the spirit of this year's Challenge format.
"This partnership with speaks to the match-play format of this challenge. Many people associate Golf with being a one-player sport which is far from the match-play format that we have adopted. Here, we emphasize teamwork as players are paired. Multichoice's contribution speaks to the format and gives us much more to play for which we are very grateful for," Walusimbi said.
For three years now, the Singleton Match Play Challenge has provided an avenue for brands like Multichoice Uganda to interface with individuals from all walks of life who are united by their passion for Golf and the spirit of friendly competition.
This year, DStv for Business is taking the relationship a step further by issuing a cash boost that will increase the level of competitiveness in the tournament while helping unearth more young talents in Golf, a sport that is on offer on its Supersport platform. The partnership is expected to help in providing support to efforts to develop golf in Uganda.
DStv for Business is a division of Multichoice Uganda that provides DStv packages for your Business in tailored bouquets that target small and large-scale businesses that want to get connected to DStv. The packages include; Work (for your everyday office setup), Play (Bars, Video halls, Restaurants, Sports Clubs and other similar facilities) and Stay for (Hospitality industry, Oil and Camps and in accommodation Facilities).