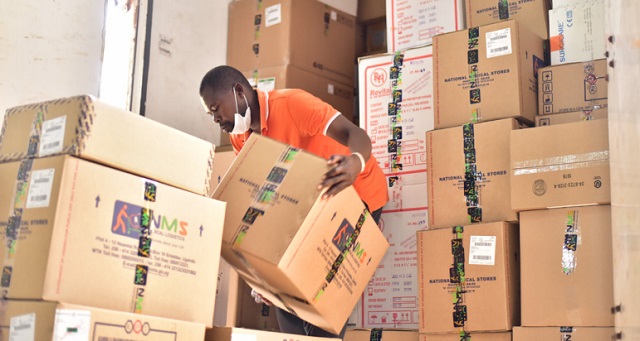 The Parliamentary Committee on Health has resolved to summon National Medical Stores over persistent drug stockouts in government health centers.
This follows appeals to the committee from Luwero and Mpigi district leaders over drug stockouts in health centers due to failure by NMS to deliver supplies as per cycles.
While meeting the Parliamentary Committee on Health during their oversight tour on Tuesday, Luwero District Health Officer Dr. Innocent Nkonwa told Members of Parliament that NMS delivered essential drugs for four out of six cycles in the financial year 2022/23.
Nkonwa added that since the start of the financial year 2023/24 , NMS has yet to deliver any drugs leaving health centers in stock outs.
Nkonwa added that the most affected units are Luwero hospital where drugs worth 173 million Shillings and Health Center IIIs where drugs of 161 million Shillings were not delivered in the past financial year.
He added persistent drug stockouts create loopholes for extortion as medical workers seek to sell their own drugs to patients within government facilities.
Mariam Kaberuka the Luwero Deputy Resident District Commissioner said that apart from failure to supply drugs on time, NMS also delivers non-essential drugs which has led residents to lose trust in government health centers.
Brenda Nabukenya the Luwero District Woman Member of Parliament told the committee that NMS had failed in its mandate and there was a need to review its performance before allocating more funds to it.
Dr Charles Ayume the Chairperson of the Parliamentary Committee on Health says that apart from appeals received during their oversight tours in Luwero and Mpigi , there is public outcry across the country due to NMS failure to deliver drugs.
Ayume said that as a result they have resolved to summon the National Medical Stores in the committee to explain why it has failed to execute its mandate yet they appropriate funds for the procurement of supplies.
In the financial year 2022/23, 440 people died of various diseases within health centers.
Some deaths were were blamed on lack of drugs to administer to patients.
In the press statement released recently, Sheila Nduhukire the Principal Public Relations Officer of National Medical Stores blamed the delays of medical supplies on late receipt of the funds from Ministry of Finance.