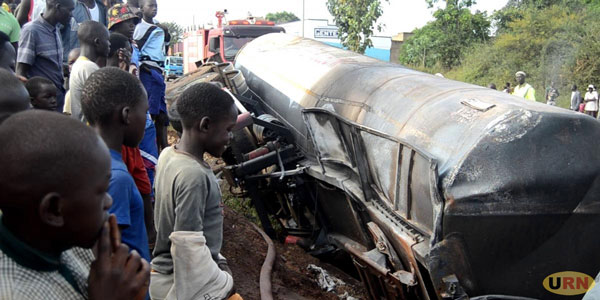 Traffic was paralysed along the busy Lira-Soroti highway this morning after a fuel tanker overturned and caught fire.
The fuel Tanker registration number SSD 321V/ SSD 320V carrying an unspecified quantity of fuel belonging to Narus Company Ltd in Kenya was traveling from Eldoret to Juba in South Sudan when it caught fire at Gwengabara, Boroboro ward in Lira City East Division.
The whereabouts of the driver Mohamed Ibrahim, 32, a Kenyan National is still unknown although eyewitnesses say no casualties were registered. Thomas Ogwal Ochol, a Catechist of St. Philips Church of Uganda Gwengabara where the accident happened, says that they managed to secure church properties and ensured that no one got caught in the fire.
Kilara Okwanga, another eye witness told Uganda Radio Network that the loud explosion woke her up minutes before someone she suspects to be the driver came knocking at her door, calling her to get out of the house.
Kilara says she has lost a number of household properties, bags of groundnuts, maize, and cash that was removed from the house in an attempt to save it in case the house catches fire. She only managed to save a metal box containing money from their Village Saving Group.
Jimmy Patrick Okema, the North Kyoga Police Spokesperson who confirmed the incident said police have not yet recorded any case of lost properties. Adding that investigations are underway to ascertain the cause of the accident.
In June this year, a truck of a similar nature overturned and caught fire in Myene sub-county, Oyam district and the two occupants including the driver managed to climb out of the vehicle just in time to escape the eminent death.