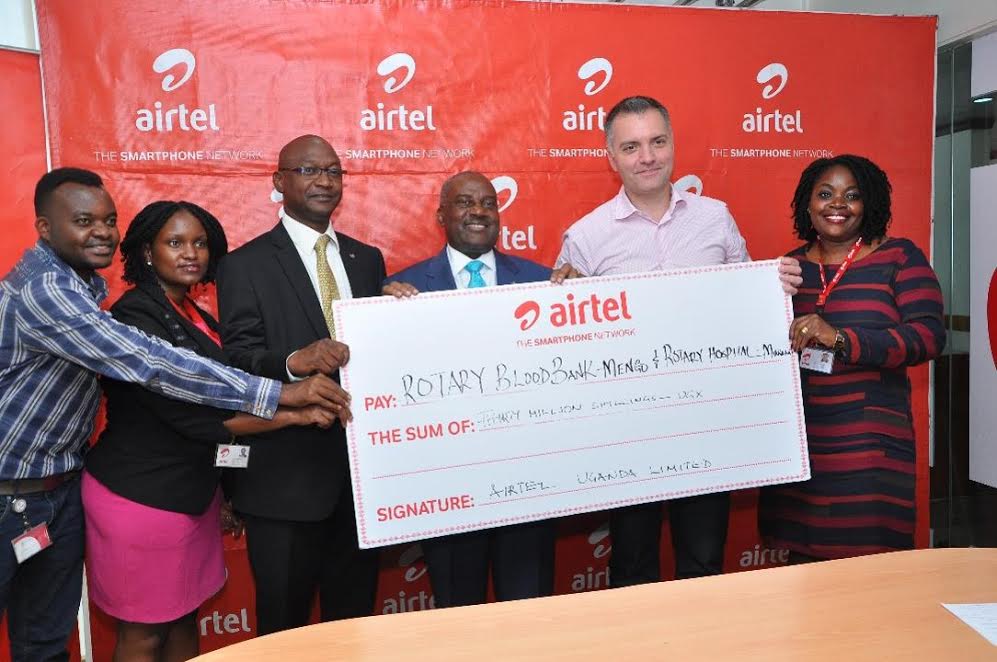 Rotary Kampala has today welcomed Airtel Uganda onboard the Rotary Blood Bank Fundraiser as a Gold Sponsor. This announcement was made during a press conference held at the Airtel Uganda head offices in Kampala.
The fundraiser concert that will feature renowned South African jazz legend Hugh Masekela alongside Ugandan sax ace Isiah Katumwa will also mark 60 years of Rotary in Uganda.
Rotary Uganda teamed up with Mengo Hospital one and half years ago to build a Blood Bank and construct Rotary Hospital in Mukono. Ugandans require the amount of blood of 360,000 but as Rotary they collect only the amount of 260, 0000 from the people each year and the difference is 100,000.
Chairman Rotary Blood Bank in his speech, thanked Airtel Uganda for the great service they are giving to its customers. "We are extremely privileged that Airtel Uganda is joining Rotary in this campaign of finishing up the construction of a blood bank which will help our citizens. They are gold sponsors in the Rotary Blood Bank Fundraiser Concert this shows that Airtel Uganda is a conscious company for the need of humanity"
"We are inviting Ugandans to come work hand in hand with Rotary Uganda to operationalize this blood bank," he added
Speaking at the press conference, Airtel Uganda Managing Director Mr. Anwar Soussa reiterated the company's promise to not only provide Ugandans with the best telecommunications solutions but also to initiate and support causes that impact their lives for the better. "Airtel Uganda will contribute UGX 30million to the fundraising concert that has been organized to raise money for the Rotary Blood Bank at Mengo Hospital and Rotary Hospital Mukono".
"Allow me to thank and congratulate Rotary Kampala who will be marking 60 years in the country for their daily, weekly, monthly and annual efforts that are geared towards the improvement of Ugandan lives," he added.
The Rotary Blood Bank Fundraiser Concert will be held at the Kampala Serena Hotel on Sunday 26th February 2017.
Comments
comments