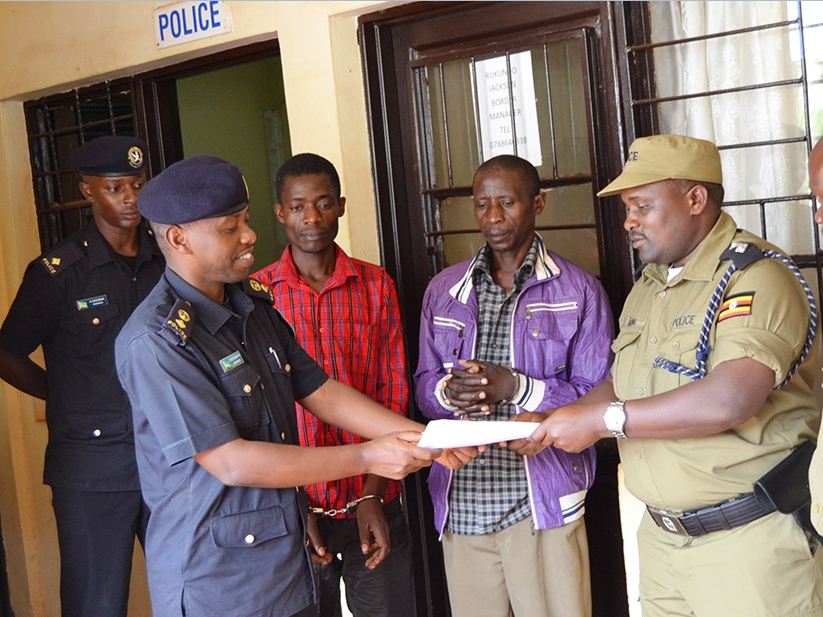 Uganda Police Immigration control unit on Tuesday deported two Rwandan fugitives who had escaped prison and fled to Uganda.
Boniface Ndimubanzi, 58, a genocide convict and Valence Ndikuryayo, 31, who was convicted for forgery and deceit, were arrested separately recently by Uganda Police Force following an Interpol arrest warrant issued by Rwanda.
Ndimubanzi was serving a life sentence handed to him in 2009 by a Gacaca court in Tovu Village, Kiyombe Sector of Nyagatare district for genocide crimes he committed in the former Murambi commune, currently Gatsibo District.
He escaped Nsinda prison in February 2012 after serving three years.
He was arrested in Kyankwanzi in Uganda's Kiboga District where he was apparently working as a casual laborer.
Ndikuryayo, on the other hand, who had been convicted for forging land titles through which he defrauded people in Kimironko Sector of Gasabo District, was arrested in Mubende District where he had since settled.
Rwanda National Police spokesperson, Assistant Commissioner of Police (ACP) Theos Badege, told Rwandan local press that following their escape, a notice was issued by Interpol Kigali through the I-24/7 communication tool, which connects all the 190 Interpol member countries.
He commended the act by their counterparts in Uganda adding that "it materializes the existing cooperation between the two countries and respective police forces."
The deportation comes two days before a bilateral meeting between the RNP and Uganda Police Force to be held in Kigali, which will mainly focus on strengthening the already existing cooperation in various areas of policing and fighting cross-border crimes in particular.
Comments
comments