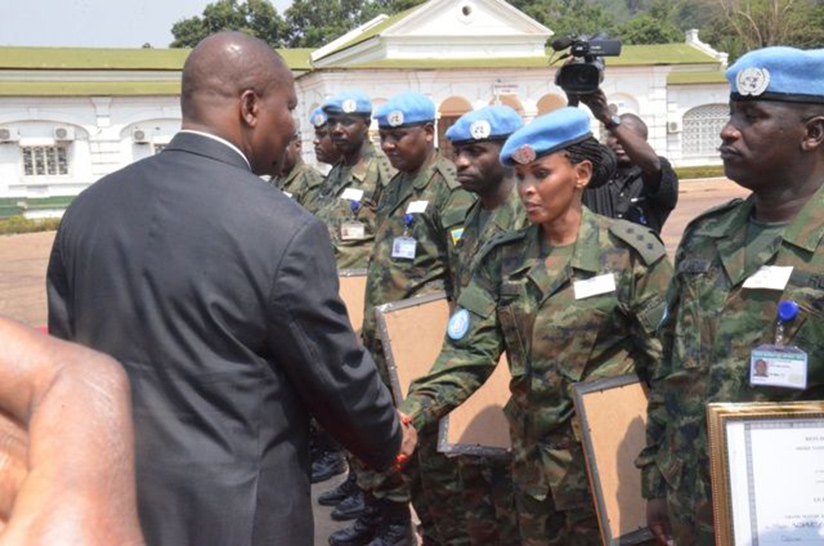 The President of the Central African Republic, Prof Faustin Archange Touadéra, has paid a glowing tribute to the officers, men and women of the Rwanda Defence Forces (RDF) for their role in helping the troubled nation return to normalcy.
Touadéra was speaking Saturday at an event at which he awarded 747 officers and men/women of RDF battalion (Rwabatt3) – serving under the United Nations Multidimensional Integrated Stabilization Mission in the Central African Republic (MINUSCA) – with the Central African Recognition Medal, known in French as Médaille de Reconnaissance Centrafricaine.
President Touadéra lauded Rwanda and Rwandan peacekeepers, in particular, for their professionalism, commitment to work and discipline, according to a statement released by the RDF after the event.
"All Central Africans, my government and myself appreciate the work you have done, in joining our security forces to bring peace and stability in our country, I thank you and congratulations on ending your mission successfully," the statement quoted the CAR leader as saying.
The contingent is awaiting rotation after a year-long tour of duty in a country that's slowly pulling itself back from the brink following a deadly conflict that largely pitted Christian fighters against Muslim militants.
President Touadéra also awarded Rwabatt3 peacekeepers with recognition certificates of merit at a ceremony that was attended by senior members of his government, MINUSCAofficials and members of Rwandan Diaspora in Central Africa Republic.
Speaking on behalf of the Rwandan continent, Rwabatt3 Commanding Officer Lt Col Claver Kirenga thanked President Touadéra and his government, and people of Central Africa Republic for their "warm hospitality and spirit of collaboration".
He also thanked MINUSCA leadership for guidance and confidence entrusted in Rwabatt3 peacekeepers to be part of Central Africans' VIP protection, including President Toudéra, according to the statement.
"I thank you, your Excellency for your guidance and I promise you that our successors will do more than what we did", Lt Col Kirenga said.
Rwanda, one of the world's largest contributors of peacekeepers, first deployed uniformed peacekeepers in CAR in 2014, with the country's troops specifically charged with providing security for high-ranking government officials, including the president, prime minister and speaker, and securing key state installations.