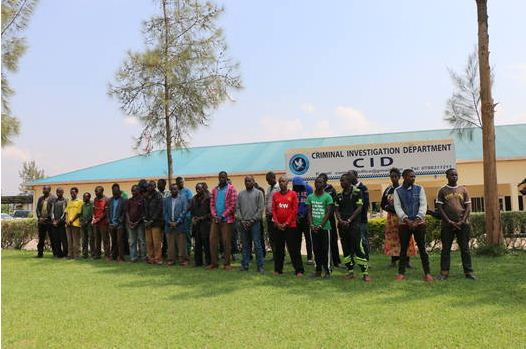 Rwanda National Police (RNP), on Sunday February 26, paraded 30 people at the General Headquarters in Kacyiru, who were arrested separately in different parts of the country, for allegedly attempting to bribe police officers.
The suspects arrested last week, include drivers who had been caught in varied traffic-related offences on highways, aspiring drivers who tried to bribe supervising officers after failing driving tests, smugglers and those who were trying to influence the release of their relatives or friends.
One of the suspects, Alex Munyengabo, while speaking to the media, acknowledged having offered a bribe of Rwf30, 000 after he was intercepted in Munini Sector of Nyaruguru District, apparently smuggling clothes, but pleaded for leniency.
"If only I can turn the clock back; I have learnt a lesson, I hope other people will learn from us never to attempt such," Munyengabo said.
Another suspect, Imanishimwe said, through her sister, the only woman in the group, they offered a bribe of Rwf150, 000 to acquire a driver's lincense after failing the tests.
Bribes ranged between Rwf50, 000 and Rwf200, 000 for those who had failed driver's license tests while bribes offered by those caught in traffic-related offences on roads ranged between Rwf2, 000 and Rwf5, 000, according to Police.
At least 200 people, majority drivers, were arrested over similar offences last year.
RNP spokesperson, Assistant Commissioner of Police (ACP) Theos Badege, said the force has set the bar high in dealing with corruption and bribery in particular considering its "high impact."
"This is a collective campaign against those giving and receiving bribes; it's a war that we call on all Rwandans to be part of and report anyone they witness giving or receiving a bribe because such malpractices affect service delivery and development, which we can't allow," ACP Badege warned.
"Imagine a person caught in a crime, and a relative, who attempts to offer a bribe to bail him or her, is also arrested; those are years in prison if convicted, and this affects their individual or family development."
Article 641 of the Penal Code stipulates that any person who directly or indirectly offers a gift in order to get an illegal service or refrain from carrying out their duties, shall be liable to a term of imprisonment of between five and seven years or a fine of twice to 10 times the value of what they had offered in bribes, or both.
"No one is above the law, regardless of who you are or what you do. Just call our police toll-free lines – 997 and 3511 – whenever you see anyone giving or receiving a bribe, be it a police officer or anyone person. Corruption is 'zero tolerance' not only in RNP but in Rwanda in general," he noted.
Comments
comments