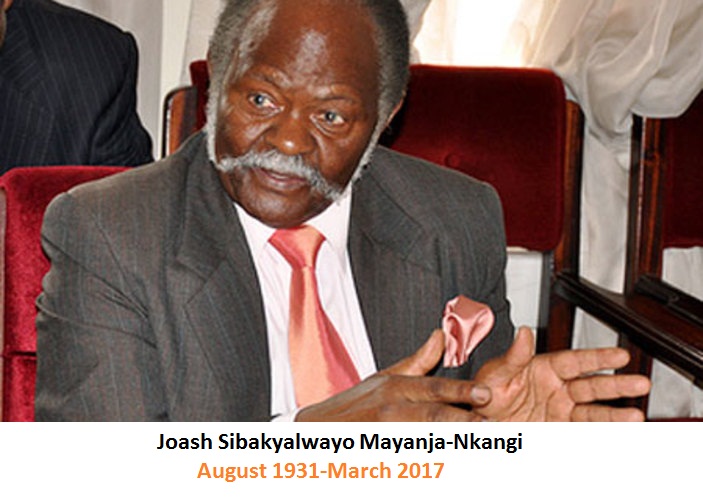 Joash Mayanja-Nkangi, a former minister in Uganda government and ex-Buganda kingdom premier succumbed to acute heart failure on Monday at around 8am at Nakasero Hospital.
Josephine Mayanja-Nkangi, the illustrious politician's daughter, confirmed the news, hours after dispelling social media rumours of the passing on of her father.
On Sunday, Josephine had said in a statement: "On February 19, we realised that he was in a lot of inexplicable pain, so we rushed him to the hospital. Until this week, we didn't really know what the extent of the damage was. The doctors said it was pneumonia. However, on Sunday, my father took a turn for the worse. An oncologist was called in and on Monday, we learnt that dad is seriously ill." The Tower Post's SAMUEL KAMUGISHA has been digging into the archives and now summarises the profile of a great public figure whose public service career spanned half a century.
Full name: Joash Sibakyalwayo Mayanja-Nkangi
Born: August 22, 1931
Passed on: March 06, 2017
Length of Life: 85 years
Faith: Born again Christian
Schools Attended: Kabungo Primary School in Buddu Masaka; Kings College Budo
Makerere University College (Class of 1953); Kebel College, a constituent college of the University of Oxford (England).
Profession/Occupation: Lawyer, politician
Vibrant in pre-independence struggles and post-independence politics.
Started anti-colonial activism in 1952 at Makerere
Was MP for Masaka East in 1962
Also minister of commerce and industry
At the age of 33 in 1964, Nkangi was appointed Katikkiro (Prime minister) of Buganda Kingdom until 1966 when the Kabaka (king of Buganda) was exiled and kingdoms abolished.
In exile in London, Nkangi landed a job as a research fellow at Lancaster University.
In 1980, after overthrow of dictator Idi Amin Dada, Nkangi started the Conservative Party
Worked under NRM's Yoweri Museveni in various ministerial dockets – education, finance and justice – between 1986 and 2001.
Later appointed Chairman Uganda Land Commission.

Mayanja-Nkangi arrives at Parliament during his time as finance minister. PHOTO/COURTESY