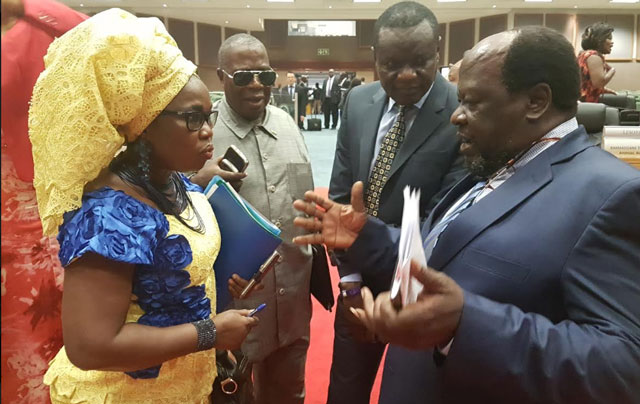 MIDRAND, SOUTH AFRICA: An armed attack Sunday night on Pan African Parliament (PAP) legislators in Midrand, South Africa, has threatened to derail deliberations, with members asking the PAP President Roger Nkodo to put aside the order of business of the day and address the security concerns.
The thugs trailed a delegation composed of MPs from Kenya, Mozambique and Tanzania from the Airport in Johannesburg to Mercure Hotel where they robbed them at gunpoint. An interpreter to the Kenyan delegation was seriously injured when thugs hit her on the forehead with a pistol butt.
The thugs made off with personal property including money, passports and bags.
"We had assurances from Police and the Government of South Africa that such incidences would not happen again," PAP President, Roger Nkodo said, adding that the issues of security were the responsibility of the host country and not the speaker.
This is not the first attack on legislators in South Africa. In August last year, four Uganda legislators were attacked by armed robbers on arrival at the gate of their hotel, KariBou-Inn Guest House, in Johannesburg where they were robbed of money and travel documents.
In the same month, Aissatou Sow Diawara (Senegal) was shot and critically injured while enroute to her hotel from the airport. There have been reported attacks on MPs in August 2015, October 2015, March 2016 and July 2016
Legislators demanded to know the interim measures that the continental Parliament had put in place in the wake of the recent attacks ahead of the Fourth Parliament's extraordinary plenary session March 3-11.
"We are the most important VVIPs from our governments. We are not tourists. What is the way forward in the interim?" a visibly angry legislator asked.
Jacquiline Amongin (Uganda) who is also the leader of the PAP delegation reiterated the members' concerns that the issue of security takes precedence over other items on the agenda of the House. She said MPs should be provided police escorts to and from the airport with guards manning the hotels.
The members grudgingly resolved to proceed with the day's agenda, to debate the appointment process of the Clerk and Deputy Clerk of the Pan African Parliament and thereafter debate the security concerns and take a common position which shall be submitted to the South African government and the Heads of State of the various African nations represented in the continental legislature.
Uganda's delegation to the Pan African Parliament includes Amongin (Ngora), Prof. Morris Ogenga Latigo (Agago North), Anifa Bangirana Kawooya (Ssembabule), Felix Okot Ogong (Dokolo South) and Babirye Kadogo (Buyende).
REPORT/INDEPENDENT UGANDA & AGENCIES