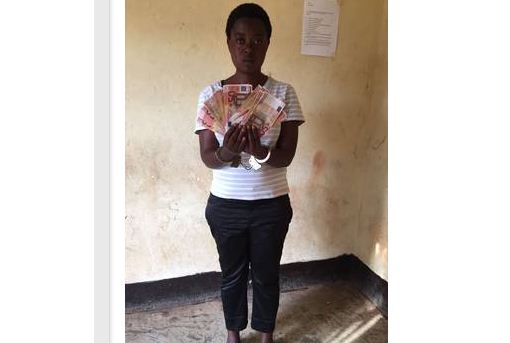 Police in Huye District, Rwanda have arrested a woman, who was wanted over counterfeiting and circulating currency notes.
Clotilde Nyiraminani was arrested on March 7 in Rwabayanga market in Ngoma Sector where she was at the time found in possession of counterfeit Euros amounting to €2.850.
Nyiraminani, currently detained at Ngoma Police station, had eluded police arrest since January following reports that she was involved in the criminal act.
The District Police Commander of Huye, Supt. Jean Marie Vianney Karegeya said that the suspect's alleged crime came to light after they arrested her accomplices in January.
"Late last year, she was reported at a police station in Muhanga over counterfeit related crimes. Later in January, we arrested another man in Huye in possession of fake €100, who also said he got them from Nyiraminani," Supt. Karegeya said.
"On Monday at about 2:30pm, we received information that Nyiraminani was in Rwabayanga market trying to buy goods and to defraud unsuspecting people. Officers were immediately dispatched and she was arrested red-handed with €2.850, in the denominations of €50, all fake," he added.
"We are still investigating to ensure that everyone connected to this financial criminal act is brought to Justice. So far, we have information of two other women said to be residing in one of the neighbouring districts, suspected to be connected to this act, and in partnership with our counterparts, we are still searching for them."
"Although cases related to currency counterfeit are rare in Huye, it's a crime we give due attention due to its impact on people's businesses and the economy, and we appealed to the public to be vigilant and always report anyone they see or suspect to be involved in such," the DPC said.
Under articles 601 and 603, circulating fake currencies attracts a prison sentence of up to three years, upon conviction, while counterfeiting legal tender attracts a term of imprisonment of between five years to seven years.
Comments
comments