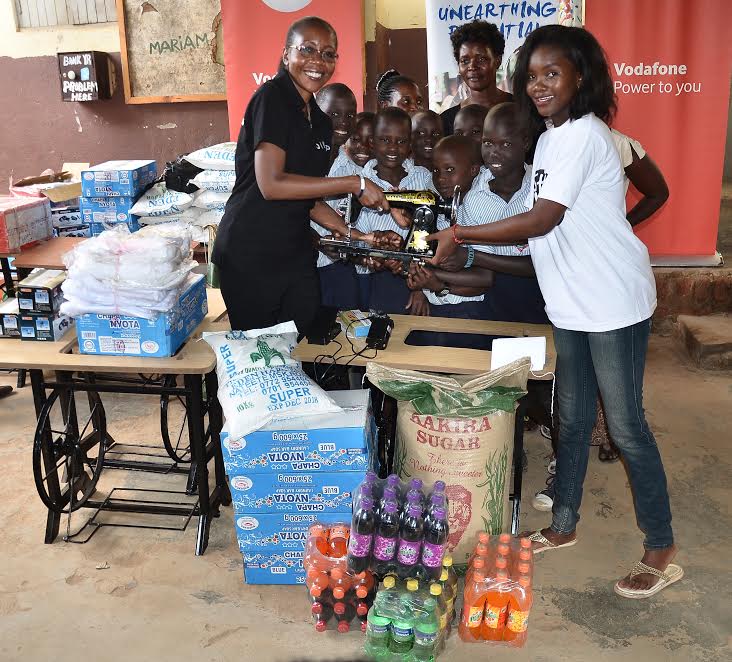 Today, Vodafone Uganda marks Women's day by applauding and supporting Victoria Merab Akinyi Executive Director of Streetlights Uganda.
At 23 years old, Victoria together with a team of 3, founded Streetlights Uganda in 2014 with a vision to transform a degenerated vulnerable children community living on the streets.
"During my university days I used to work with my mother who was a roadside fish vendor in the evenings. After our day's work, I always saw children living off the streets and the girls seemed even more vulnerable because they were susceptible to rape. I developed a desire to help them" Victoria narrated.
As vision bearer, Victoria's opportunity to birth her heart's desire came during her industrial training where she was required to put her Industrial Art knowledge into a human campaign.
Today, with over 30 employees, Streetlights uses both visual and performing arts to get street children off the streets. It works with partnering homes to give the children a decent home away from the streets and constantly reminds them that they are not alone.
"We also support single mothers and help them to fend for their children and give them a family to belong to. This is one of our methods to curtail street child breeding" Victoria added.
This year, 30 children from ages 6 -18 are benefitting from a Mindset Change Program using art to solve problems, keep them occupied, study, discover and develop their talents. The older children are participating in fashion design and craft weaving. Streetlights provides for a market through their networks and partnerships.
"Education is one of the key focus areas for Vodafone Uganda and Youth and the Next Generationers are a critical segment in our business. Vodafone recognizes that these young ones are Uganda's future and so we are happy to be a part of this woman led initiative that Streetlights Uganda is carrying out through their outreach programme" Ms. Progress Chisenga noted.
Vodafone donated sewing machines and various other items to support the fashion design unit at People's Children Concern Project in Kibuli a suburb in Kampala.
Streetlights Uganda has centres in Namuwongo and Kibuli, where street children are rehabilitated and partners with existing street child organizations who provide spaces for rehabilitation training for the children, as well as single mother. These include People's Children Concern Project-Kibuli, Hands for Hope- Namwongo, Raising Up Hope Uganda-Bulenga, Help Africa- Rubaga, and Getto film Project- Naguru.
Comments
comments