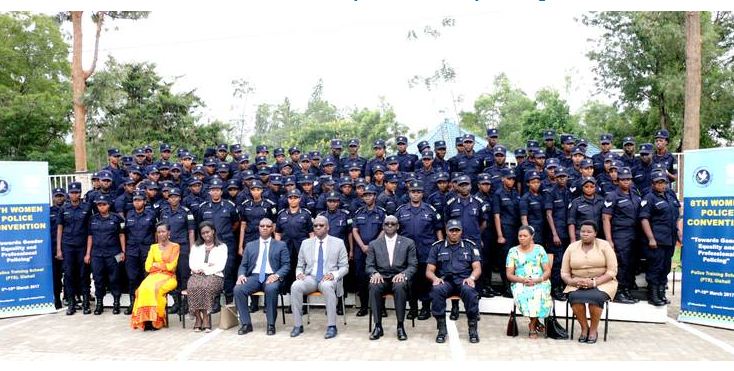 The eighth 'Police Women Convention' convened yesterday at the Police Training School (PTS) in Gishali, Rwamagana District with over 500 female officers meeting to discuss on skills development as a way of advancing professional policing.
The convention held every year for the last seven years is a good forum for sharing ideas and experiences between women police officers drawn from different units countrywide, and also get guidance and encouragement from the Rwanda National Police leadership and partners.
The two-day convention is held under the theme: "Towards Gender Equality and Professional Policing", and comes a day after Rwanda joined the rest of the world to mark the International Women's Day.
While opening the convention, the Minister of Justice, Johnston Busingye commended Rwanda National Police and its partners for the idea and maintaining this annual event to further uphold the government's gender mainstreaming policy.
He said that women in Police have been significant in the "impressive performance" of the directorate of gender promotion, gender desks and focal points established in all districts across the country
"This framework has facilitated prevention and combating gender based violence and child abuse. Our women police officers have also played a significant role in international peacekeeping missions. I have no doubt such outstanding achievements will encourage more women to join the police," said the Minister.
Currently, about 21 percent of the RNP total force are women.
"The most important factor is not just the growth of numbers, but the skills and professionalism in ensuring that people in Rwanda are safe, involved and reassured….Rwandans expect you to be exemplary by upholding national values while executing your policing duties," the Minister said.
"Apart from being police officers, you are also mothers, guardians, sisters and daughters in your communities, and this is why you must be role models and dignified officers."
"Records have it that your conduct has been incredibly impressive. The professionalism exhibited by police officers while on duty is incredible and this is evident from the commitment in preserving peace both at home and abroad. Such exceptional performance is not reserved for men…even women can do it, and sometimes even better," said Minister Busingye.
He hastened to add that women and men Police officers have a duty to support and protect one-another as they serve their nation.
"You have a responsibility of making Rwandans understand that they can trust you at all times; that you are the custodians of their safety, security, law and order," he said.
The event was also attended by the visiting Minister of Justice for Mali, Mamadou Ismaila Konate and the Inspector General of Police (IGP), Emmanuel K. Gasana.
In his address, IGP Gasana thanked the women officers for the efforts invested in ensuring a safer nation and asked them to keep up the momentum, either locally or across the border in peacekeeping missions where they have been recognized for their exceptional performance.
"The executive director of Kigali International Conference Declaration (KICD) is a female Rwandan; the coordinator of Isange One Stop centres is a woman; we have women officers as pilots, in marines, mechanical and civil engineering. Women officers have also demonstrated integrity in fighting corruption," the IGP said.
He encouraged them to exploit the occasion and draw strong resolutions that will further advance professional policing.
The two-day Convention is expected to deliberate on enhanced gender equality and capabilities of women officers in the force, information sharing and experiences towards professional policing.
The force has put in place several initiatives for gender mainstreaming and women empowerment like gender policy which acts as a guiding tool in streamlining gender in the force.
Currently, deployments of women officers are considered in a way that does not conflict with their family responsibilities.
Comments
comments