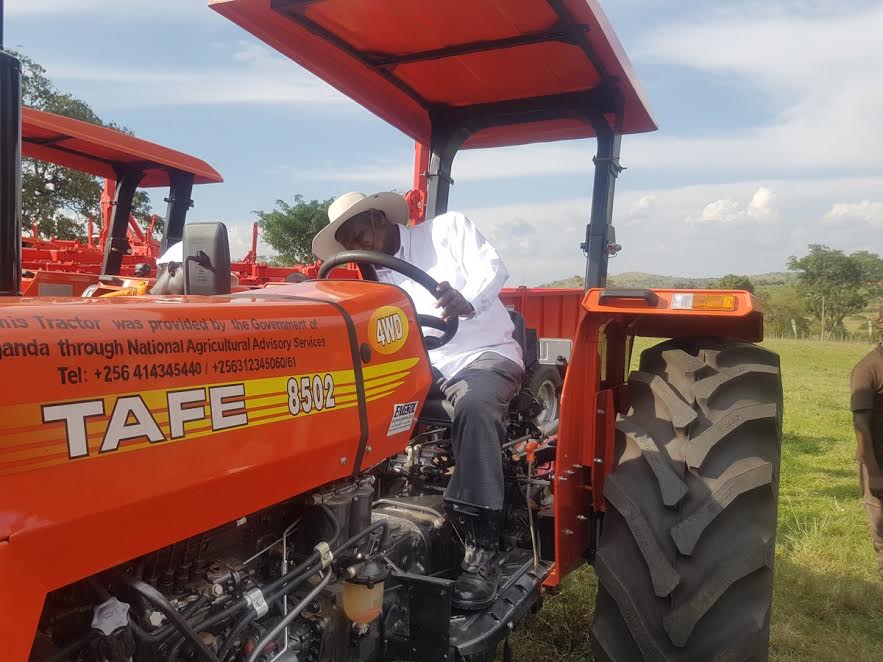 President Yoweri Kaguta Museveni has advised farmers in the cattle corridor districts to embrace agriculture mechanisation to mitigate effects of climate change.
This, the President said during the handover of 40 tractors and pasture seeds to farmers' clusters at Mbarara Zonal Agricultural Research Development Institute in Ruharo.
The tractors and the pasture seeds are part of the pasture improvement project that intend to give over 160 tractors to farmers from different parts of Uganda in this finicial year 2017/2018.
The project is intended to mechanize agriculture as a way of combating the unpredictable climate changes that has recently affected food production in the whole of Uganda leading to famine.
The president argued farmers to move from their traditional agricultural practices and start growing sufficient feeds for the animals, selecting quality seeds and irrigation if production instead of depending on the nature grass that cannot sustain them during the dry season.
"Last year and the past years, we have witnessed unstable rains, the climate is changing and its up to us to make sure that we find a way of surviving in the harsh climate," The president said
He added; "Farmers should start thinking of planting grass during the rainy season, drying it and keeping it for the dry seasons. same with water, learn to harvest water during the rainy season so that your animals don't suffer during the dry season."
Comments
comments