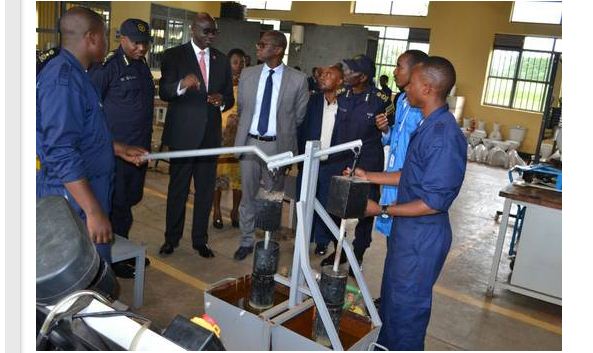 The Minister of Justice Johnston Busingye along with his Malian counterpart Mamadou Ismaila Konate, on Thursday, visited Gishari Integrated Polytechnic (GIP) where they were impressed by the school's education aspirations.
The ministers were also accompanied by the Inspector General of Police (IGP), Emmanuel K. Gasana.
At GIP, they were received by its acting Principal, Assistant Commissioner of Police (ACP) Dramas Gatare, who have gace them an overview of the polytechnic and courses offered.
After touring the school departments, Minister Konate said that there is a lot that his country can adopt from GIP in creating a job creating generation.
Minister Busingye, on his part, said: "It's always a pleasure and a learning experience to visit RNP places; what is going on at GIP is laudable."
In his presentation,ACP Gatare said that as a government-based higher learning TVET institution, GIP has over the last few years made tremendous strides in achieving its objectives.
"GIP has contributed to Rwanda's economic development agenda by training both Rwanda National Police officers and the community in various technical and vocational skills in respect to the National Economic priority areas. Technical expertise and facilities have been shared between the RNP and Workforce Development Authority (WDA)" said ACP Gatare.
The polytechnic has been operational since March 2013 and currently offers advanced Diploma Programs, Vocational Training courses and short vocational training courses
The school is set to expand its infrastructures and to increase its student capacity to at least 1500 this year from the current 700.
The face-lift, ACP Gatare said, is informed by the increasing number of students and the increase in courses