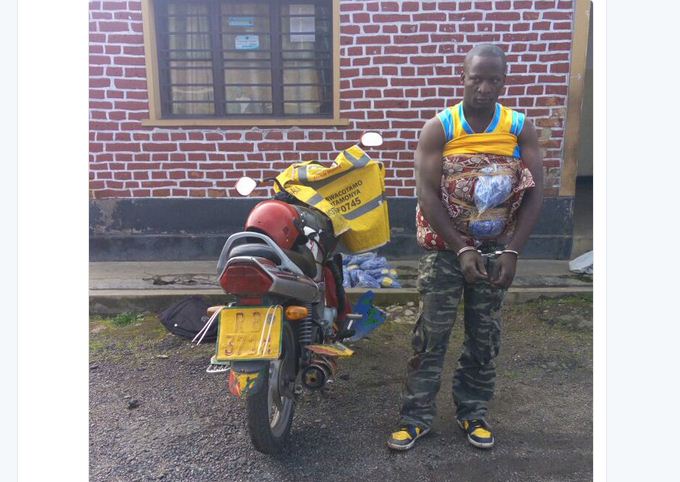 A motorcyclist in Rubavu District has been arrested after he unsuccessfully pulled a rare move to traffic banned illicit gin called Blue Sky.
Jean Bosco Nturanyenabo, 25, was arrested on Friday while trafficking at least 360 sachets of the banned gin.
The suspect had at the time wrapped the sachets packed in banned plastic bags, around his body to beat security.
According to Chief Inspector of Police (CIP) Theobald Kanamugire, the Western region Police spokesperson, the suspect was at the time riding from Rubavu to Nyabihu when he was stopped by police along the route.
"His body looked suspicious and unusually bulgy; this prompted police officers to stop and search him only to find his body covered with sachets of Blue Sky, and he was immediately arrested," CIP Kanamugire said.
This method of trafficking drugs is one of those that have been unearthed where even women pretend to be carrying a baby at the back while men at times wrap the psychotropic substances around their legs covering it with the trouser.
On other occasions, traffickers conceal cannabis in bicycle tyres or pumpkins.
"Through strong partnership with the people, we have been able to know all the tricks traffickers use, and routes used; this is why we have been able to identify and arrest them," said Kanamugire.
Blue Sky is classified as a narcotic drug due to its alcoholic content as stipulated under article 24 of the law governing narcotic drugs, psychotropic substances and precursors in Rwanda.
It states that "any drink that exceeds forty five percent of alcohol and any other drink which doesn't have the required quality for consumption shall be considered as narcotic drug."
Besides, all drinks packet in plastic bags were banned in Rwanda as part of enforcing the organic law against on environmental protection.