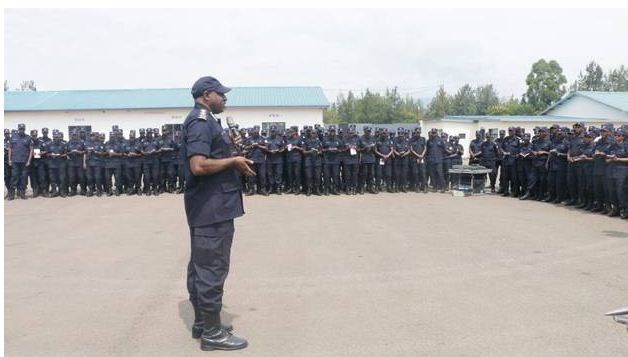 The Inspector General of Police (IGP), Emmanuel K. Gasana has called upon officers to exercise high moral grounds and professionalism in the execution of their duties.
The IGP made the call on Sunday while briefing police officers operating in the City of Kigali, at the RNP General Headquarters in Kacyiru.
The briefing falls in the culture and periodic countrywide tour of Police units by the Rwanda National Police (RNP) leadership, mainly to review the performance of the units in the execution of their tasks and further enforce discipline.
It also serves as a platform to identify and respond to any existing challenges and further improve the welfare of the officers and professionalism with an ultimate goal of further improving service delivery.
The Police Chief reminded the servicemen of their duty towards sustainable security and urged them to shun and fight all forms of malpractices such as corruption.
"Malpractices such as corruption, drunkenness, don't depict qualities of a professional officer and the force in general. These are intolerable acts that have negative effects to the country image," IGP Gasana said.
The Police Chief underscored the need for speedy conclusive and timely investigation of cases in a professional manner.
He urged them to involve and strengthen their partnership with the public and local entities to effectively make the concept of community policing effective in detecting, fighting and preventing crime.
Elsewhere, the Deputy IGP in charge of Operations, Dan Munyuza also met with police officers attached to the department of Traffic and Road Safety where he emphasised the need to streamline their operations and "stronger approach against corruption."
He lauded officers, who have exercised integrity and stood by the core values of the force, desisted temptations of bribery and arrest those who attempt to bribe them.
About 50 people majority drivers or aspiring drivers, have been arrested since the beginning of this year for allegedly attempting to bribe officers while over 200 were arrested last year.
He appealed to the officers to remain vigilant in the wake of international crime such as terrorists, who may use the laxity to cause insecurity.
Comments
comments